Rob played baseball for Washington State University until he moved on up and he has been loyal to them through the highs and lows. He is a cougar in every sense of the word. And I guess so am I. No, I didn't attend WSU. But my mom and dad did, and my sisters did, and about half my other family did and of course, marrying a devout alumni like my husband, I am kinda like a cougar by default. I admit, not as gung-ho about it all as he is, but I'm sure that will change as soon as my two beautiful little angel babies attend.
Not like they really have any choice where they will go to college.
Ok, that's not true. They can go wherever they like. As long as it's not The University of Washington and as long as it's Washington State.
Besides, how adorable does my little 2.5 year old look decked out in the crimson and gray?
Those sports eye stickers. Oh, those eye stickers. We tried to put them on him last year and he had a fit. I guess he didn't like the way they felt maybe? He did a little better with them this year...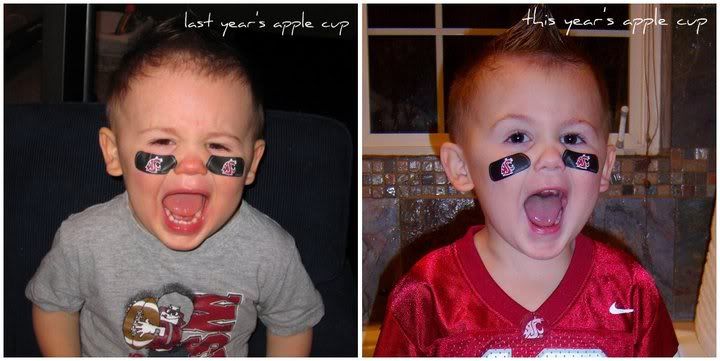 Err, maybe not. But after I bribed him with some chocolate, he obliged and gave me a few smiles. Even posed with daddy for a few.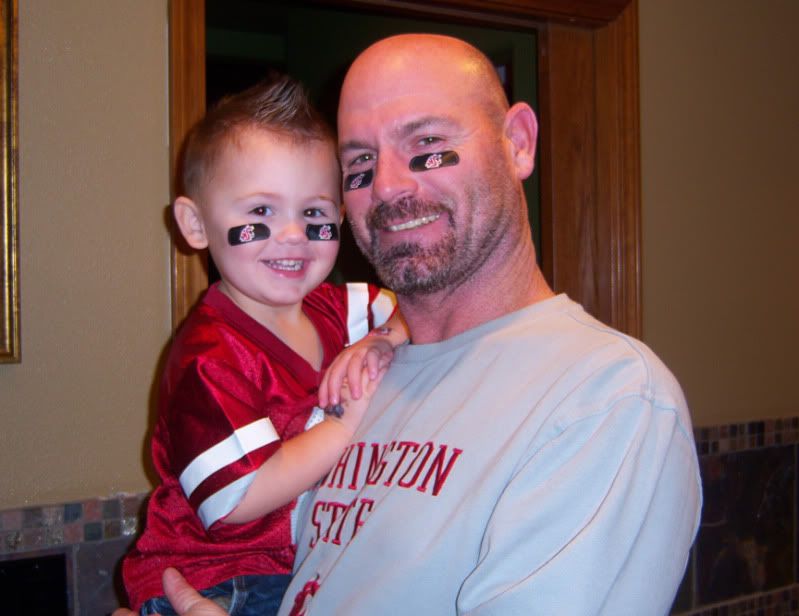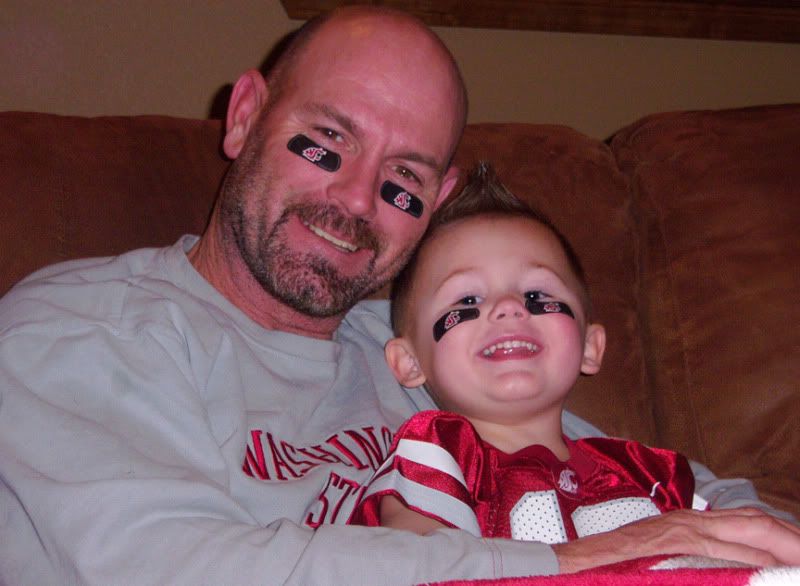 Baby Colt got his teeth pretty early. Around 3.5 months, he had his first tooth. By 7 months, he had 8 big 'ol teeth. Four on top, four on bottom. Cutest little baby smile.
I really loved his big toothy smile.
So there I am, in the kitchen unloading the dishwasher. I can hear The Polar Express playing on the TV. Love that movie, btw. Next thing I hear is that cry. You know,
that
cry. The horrible ear-piercing you-know-your-8-month-old-is-in-major-pain kinda cry. I run to the living room and find my precious little angel baby on his side on the floor, with a chair toppeled over him. First thing I notice is a stream of blood coming out of his mouth. I scoop him up, hold him close to me and keep repeating, "it's going to be ok, it's going to be ok."
However, at the moment, I had no idea if it was going to be ok. Since I wasn't in the room when it happened, I didn't know how bad it really was. Oh, and there was a lot of blood. Just pooling in his mouth and saturating his shirt. So much so that I had to sort of tip his head forward so he didn't choke on it. After he finally calmed down a tiny bit, I held him back from me just a little to try to see what happened to him. First thing I see is his tooth hanging by a thread.
His baby tooth. I kept thinking, how hard did he have to hit his mouth to totally knock out his tooth?! I saw the tooth hanging down and then he shut his mouth for a moment, gagged a little, then started crying again. This time I just saw a big 'ol hole. Right where the tooth used to be.
But of course, I'm still totally freaking out. I still don't know how bad the damage was, and he is screaming in my ear, blood everywhere, and I was home by myself with the kids. Rob was out of town so I called my mom and tried to sputter out the words "something happened to Colt, I have to take him to the ER."
Within minutes my mom was with me in my car and we went to the urgent care. The good news is that during the whole car ride, Colt had settled down and was sucking away on his pacifier. He seemed to be doing ok.
And he was ok. Turns out he just knocked out his front tooth. Completely. Which of course means that my little angel baby won't have a left front tooth until the permanent come in.
Guess we have a few years now to make fun of him for only having one front tooth. ;-)
Two dentist visits later, everything is now just fine. Colt seems happy and content as always, and it doesn't even seem to bother him one little bit that he now has 7 teeth instead of 8.
See? Still a happy boy...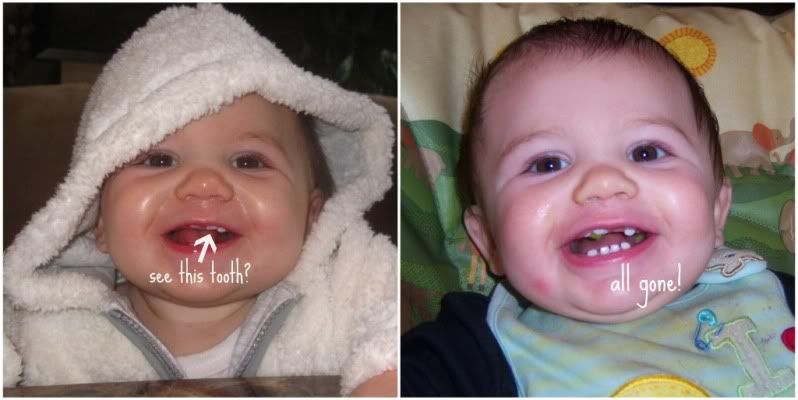 And just for mommy purposes, here is the picture of Colt with his blood stained white t-shirt.
Wouldn't you be alarmed too and act like a mommy with her head cut off if you saw this on your little babe?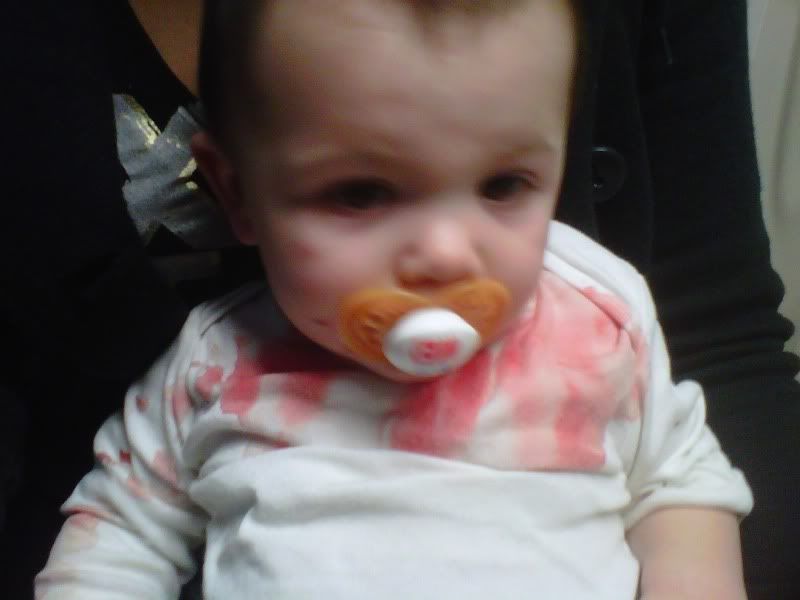 (camera phone picture at the doctor's office)
But you know what? All it takes sometimes is a daddy to make everything all better.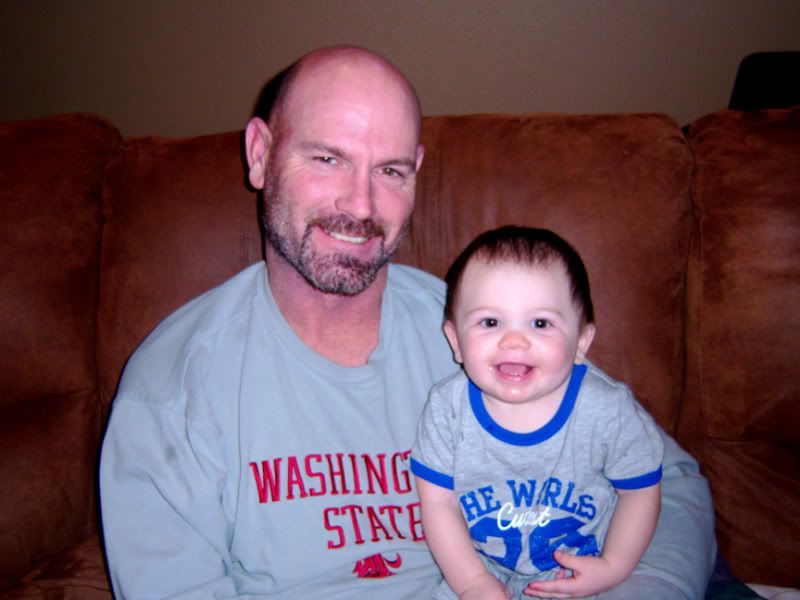 And just incase you don't believe me, this is two days after the ordeal. All better. (I tell you, it was much more traumatic for me than for him).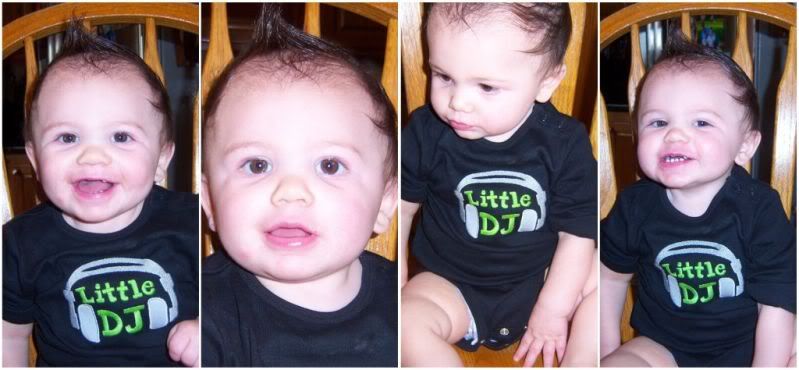 Ahhh... what would life be without the trials and tribulations of children. The good times and the bad, the sweetness and the time-outs, the kisses and the fits, the sleeping through the night and the not so sleeping through the night...
IT'S ALL GOOD.