NOT ME! (Had it been me, I wouldn't be writing this right now because I would have been dead from a heart attack. My two are more than enough thankyouverymuch.)
IT'S MY SISTER! And if you didn't know, I have twin sisters. Rachel and Brittany. They are two years younger than me and I actually like them quite a bit. Twenty years ago? When we were young and fighting over who took whose clothes without asking? Maybe not so much then. But I like them now. Ok, love them. There. That's as mushy as I'm going to get.
Anyway, back to the exciting news. My sister Rachel is pregnant! And get this...WITH TWINS! No joke, I would not s%$t you guys on this. Want proof?
(Seriously, how freakin' cool is that?)
Congratulations to the happy couple!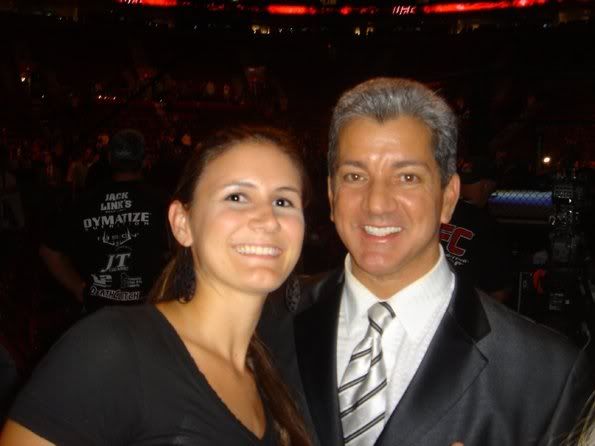 I know what you are thinking. "That guy seems a little old for her." Don't be so quick to judge! He's loaded guys!
Ok, ok, ok. So maybe that's not really her husband. Maybe it was just some Ultimate Fighter guy she took a picture with in Las Vegas. (My sister and her husband are die-hard UFC fans. Why, you ask? Beats me.) Here is the real picture of the couple...
MUCH better match, agreed?
Ok fine. That's not really her husband either. He too is some UFC fighter guy. I won't kid you anymore, so without further adieu, will the real husband please stand up!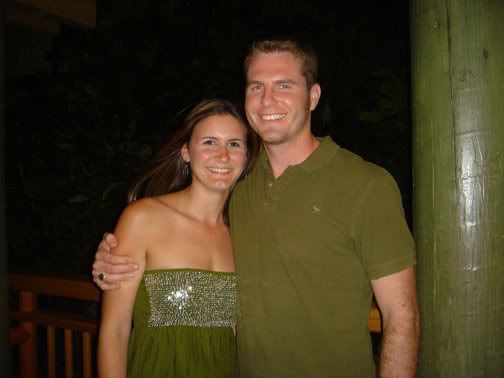 And just so you know I'm really telling the truth this time, here is another (really blurry, really badly scanned) picture of them on their wedding day.
Rachel and her husband were total high school sweethearts. She got married pretty young. Nineteen years old, to be exact. Her husband Mark joined the military just after 9/11 and Rachel wasn't moving anywhere with him unless they were married. So, they got married. They moved to Tennessee and he made two trips to Iraq. They didn't spend an anniversary together until their 4th year. During their first 5 years of marriage? They only spent about 2.5 years actually living together. Normally? Can you say recipe for disaster? But her and her Mark are honestly one of the couples I look up to most in my life. They have always been so caring, so respectable and so loving to each other. And this year they will celebrate their ninth wedding anniversary. Now that's what I call beating the odds.
SOOOOO happy for you Rachie and Markie! I know you will be the best parents ever! Good thing I had my kids so early so you could have lots of practice.
Rachel spent the whole entire time with me at the hospital when I had both my kids. Slept on the teeny uncomfortable couch the whole time. (Yes, my husband was there also, but I told him to go home at night and get some sleep. My sister isn't as grouchy as my husband is when she doesn't get a lot of sleep.) She was even in the room with me when I delivered baby #2. And guess what? I get to be in the room with her when she has the little twinsies!
She even gave my second born his first shampoo.
Needless to say, I am pretty excited! (And don't worry Brittany. An upcoming blog post will be dedicated soley to you also.)