I have a little secret to let you in on...
I'm not a natural blonde.
What? You already knew that? And all this time I thought I had ya'll fooled! What gave it away? Was it my super dark roots always sprouting through? The fact that my other features just didn't quite "jive" with my being a natural blonde? Or was it that through my blogging and writing I just seemed way too smart and sophisticated to be a blonde. (I kid, I kid! All my blonde bloggers out there, I love you, and am secretly jealous that you were, in fact, born with natural glistening light colored hair. And a lot of you seem much smarter than me anyway) But me? Born with dark, dark almost black hair. Hence the name.
Anyway, I decided to go back to my raven-haired roots for a few reasons. Most obvious, this blonde thing was getting out of control, money wise. I always want to go so light that in just a week or two, you could see my natural color coming through, so naturally, I would make another appointment to get that mess taken care of. Also, naturally, my bank account was getting drained. Another reason? I really, really like dark hair. I see these beautiful women with super dark hair and it always looks so exotic and pretty. So I went back to black (or almost). And, I want to grow my hair out really long, so this was most definitely a healthier way to do that.
A few pictures of me in my blonde days. I really did enjoy being a blonde for roughly half my life. Oh, and I gotta give a big shout-out to my hair gal Kary, I have been going to her since I was in high school and have never waivered. She is the best. She has taken me blonde, black and back so many times and my hair has yet to fall out. She always does an awesome job.
Bye Bye blonde. I'll miss you, but as history shows, I will most likely be coming back to you, sooner or later.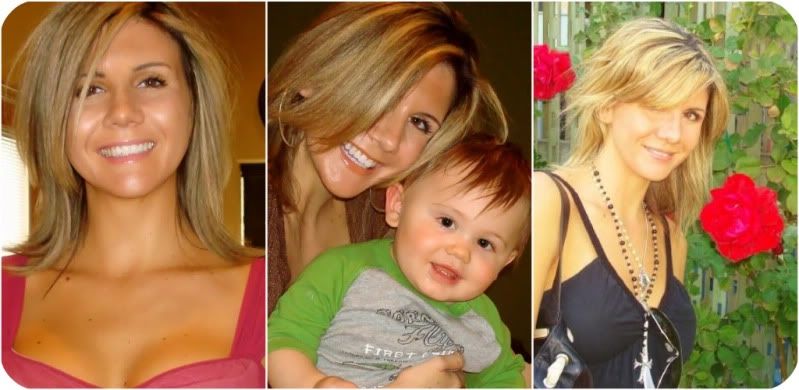 But helllllooooooo dark! I hope you'll grow on me. Pun intended.
Happy Saturday all you blonde and brunette goddesses!
(Wow. Did I really just write a whole entire post about my hair? I need to brush up on more "wordly" issues)
P.S. I've been a little behind getting back to some of you that have commented/emailed me, but I will respond to all of you, asap. I just have these two little things called kids who seem to constantly need my attention. :)