You guys. I try hard to produce good blog posts for you all. I have ideas, concepts, thoughts, etc. I have had this blog post in my mind for a while, but didn't know quite well how it would "jive." But then this morning, I went to
C Mae's
blog and she had posted
this
. And my whole "jive?"
It happened.
That article on her blog helped give me that push that I needed. But before I can go on, you really need to go and
read this
, right now. Please, it totally relates to this blog post. Not only relates, but defines it.
Pink nail polish on little boys? Hell yes!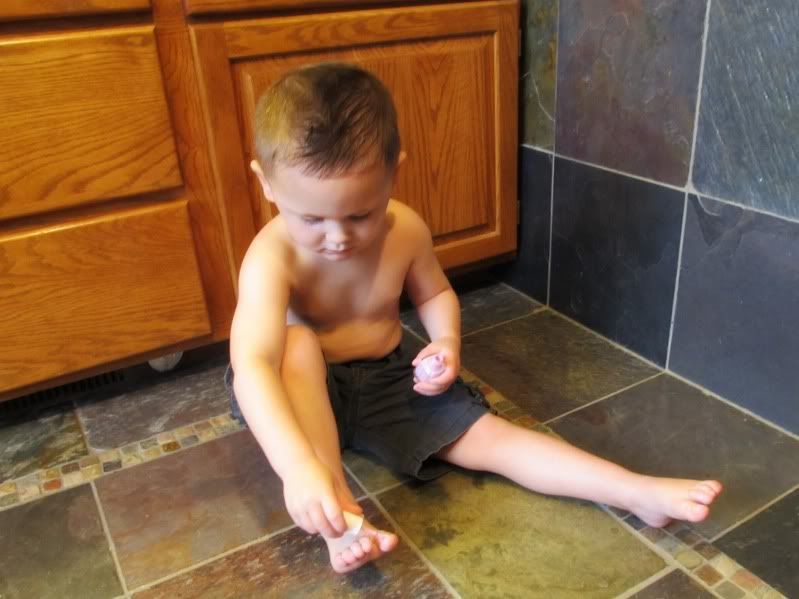 This little gem of a three year old right here decided that he wanted to paint his nails with my brand new Essie nail polish. Being the "wild and free" momma that I am, who was I to say no?
Go ahead! Use your creative mind. And while you're at it? Sure! You can paint my toenails too.
Gunner's finished product...we might have to work on the steady hand...
Anyway, when I was reading C Mae's blog post, and that totally hilarious
article
, I thought to myself,
"is this for real? Is little boys painting their nails pink that big of a deal?"
Now before I go on, let me just
clarify
something.
I am married to a majorly manly man. Before we had kids? Had I brought up that maybe one day his boy would be painting his toenails pink? Hubby would have freaked. But now, after said baby is here and it's three years later? My husband is more than happy to not only let our little angel baby paint his own toenails pink, but also happily obliges to getting his own toenails painted.
But daddy requested black.
(Please excuse the weird camera angle. Daddy's foot doesn't always look so screw-y. My bad)
So the question that the original article asks...is a young boy painting his toenails pink going to be destructive over time? Will this "innocent pleasure" bring on "liberal, transgendered identity politics?"
I mean, does it look like something is wrong with my boy?
(braids and ponytails)
Um...
wait, wrong picture. How about this...
(high heels and jewelry)
Crap! Wrong picture again. This is what I meant to show ya'll...
(am I cute?)
(holy hell! Say hello to the bow in back!)
Fine.
Say what you will.
But you know what? This kid is
mine
, and he is
amazing
. And in general?
He's one badass boy with a mohawk and tattoos.
So
SUCK IT
all you
pink
toenail little boy haters!

(Ok, granted the braids, ponytails and dress wearing was all my doing -- I like to torture him sometimes)