So. Usually I write about my life, the crazy things that happen to me, try to keep it lighthearted, a little humorous, cause that's how I like to roll. I try not to stress and don't take anything too seriously, I try not to let other people get me all riled up because frankly, I'm not gonna let anyone rent space in my head.
But sometimes there are certain things that light my fire like no other, such as discussions on murderers or child molesters, the right to own guns, britney spears, world peace (never gonna happen) and other political issues.
Today that issue is the death of the devil, otherwise known as Osama bin Laden.
I wasn't even going to write about this. Yes, it's huge news and yes, it's more important than what my moms toothbrush looks like, but I figured today was a new day, a good day, a fabulous day, a day to be celebrated. And I chalked it up to the good guys always win in the end. So I planned to write a snappy little post about a few of my good friends. (It's coming

Lindsey!

Promise. I think you'll likie)
But then, I opened my Mac computer this morning and started reading other peoples blogs, and there were so many that were talking about this here issue, and amazingly, a lot of people were not rejoicing! Not praising the fact that one of the most evil men in the world was now dead! And these certain bloggers were appalled at the fact that a large crowd of people had gathered to CELEBRATE!
See, I am a hardcore lover of America. This is the greatest country on the planet. What we stand for, our freedom, our right to choose what religion we want to practice. Of course we aren't perfect. OF COURSE. No one and nothing is. (Except our Father up in Heaven) But this country I live in? Where I have hundreds of thousands of people who choose to go to war when necessary and fight for me?
For ME?!
Amazing.
Getting a little off track here. Let me back up.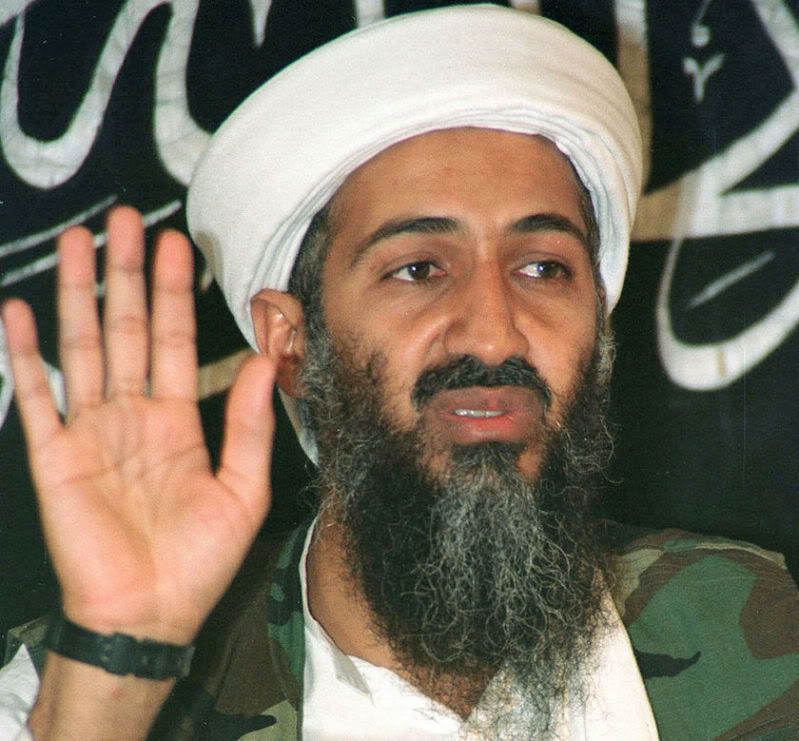 "Hey what's up guys. Osama here. I like to kill thousands of innocent people. It makes me happy. And I would still be doing it if those darn American Soilders hadn't of offed me."
THANK YOU GOD and THANK YOU TO MY HEROES, the men and women in the military, that one of the most despicable, murderous, disgusting excuses for a human being that ever lived is now dead.
Everyone can agree that it's a good thing that he's 6 feet under, right? And so far, it seems like everyone does. I mean, you'd really have to be an idiot not to, but that's not my issue I have here. The issue I have with those certain bloggers and other people with the same mindset is that they think it's "appalling" that a lot of us are celebrating this fact. Rejoicing in this fact. Smiling and clapping and high-fiving our true patriotic friends with a loud "HELL YES!"
I've heard a few statements, such as "is true justice an eye for an eye? Doesn't it say in the bible to turn the other cheek?"
Don't get me started with your bible talk. I'm pretty sure the bible mentions a little fact of not murdering innocent people.
They say, "aren't we doing the same thing as the people who celebrated after the destruction of 9/11? Are we any different than them, as we are now celebrating a death, a murder, an act of war?"
Those people can't honestly be serious.
Those "people" who celebrated the horrific events of 9/11 were celebrating the DEATH OF THOUSANDS OF INNOCENT PEOPLE. They were celebrating PURE EVIL.
My fellow Americans last night in front of the White House? They were celebrat

ing the

DEATH OF A MURDERER. Who took it upon himself to COME INTO OUR COUNTRY and KILL thousands of our innocent people and take mothers, fathers, grandparents, children, neighbors, and friends away from every single one of us.
Have fun in Hell, Osama. Say hi to Hitler and Dahmer.
And just to go back to my roots and end on a lightler note, I'll leave you with this...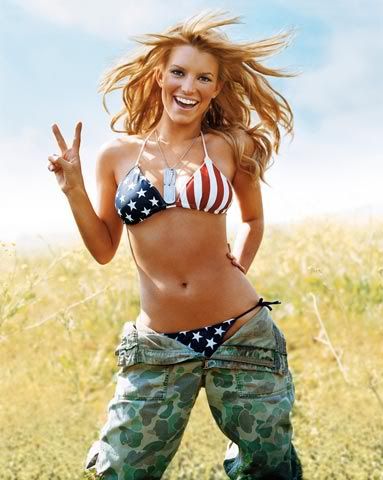 (Because we all know that Jessica Simpson in a flag bikini screams American Pride, no?)