Remember my sis Rachel and her hubs Mark? The ones who got married at 18 years old and here we are, almost ten years later?
Remember
here
when I told you about my sister (who is a twin herself) was pregnant for the first time with twins? And then
here
when I wrote all about the baby shower?
Well the babes have arrived!
Stella Evon
on the left, and
Sophie Eva
on the right.
Middle names named after the dad and mom's respective grandmothers. (Eva after
my Nonie
)
Stella weighed 6 pounds, and little Sophie just barely over 4. However, no NICU time for either since both were full term -- delivered at just a day over 37 weeks. Isn't it crazy how much two pounds makes such a difference? I guess Stella was the food hog. Sibling rivalry already!
Funny story about the delivery. My sister's husband Mark was busy brewing homemade beer for his brothers wedding this coming November. Rachel went to the bathroom and when she came out, she asked Mark, "so, how much longer til you are done brewing the beer? Cause I think my water just broke." Basically, my mom took Rachel to the hospital so Mark could stay home and finish brewing his homemade beer. He finally made it to the hospital when his little girls were just minutes old.
Just kidding.
I mean, my mom did take Rachel to the hospital, but Mark came less than an hour later after he realized that yes, this was really happening right now.
Just for sheets and giggles, here is a facebook status update that Rachel posted, about 10 hours before her babies came into the world...
You guys. The girls? Precious.
Something else? Stella came and then Sophie wasn't born until one hour and 10 minutes later. The doctor said that this was the longest time between twins being born that he had ever experienced. And no, there was no c-section. :)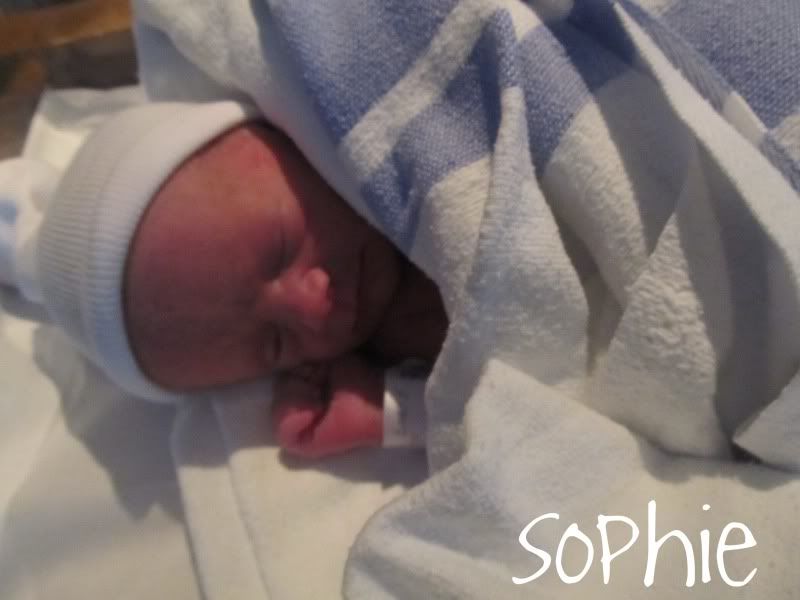 Holding the oldest twin, Stella.
And then later that night, I got to hold both my nieces. So in love already!
As is our tradition, whenever someone has a baby, someone else brings PF Changs for dinner. It started with my first two births. Sisters brought me takeout to the hospital. So hubs and I ordered lettuce wraps and spicy chicken and those amazing crispy green beans and took it to all in the birthing room.
The nurse said she could smell our food from all the way down the hall.
Proud daddy.
And momma.
love. love. love. love. love.
LOVE.