Preface: This post is my opinion only, however my opinion comes from researching the facts about food and what we put in our bodies. I have highlighted many articles in this post, so if you want to know more, you can click on any highlighted (in pink!) link.

I have always, always been conscious about what I eat and how I look. From way back in Elementary school when I ate almost nothing and my fifth grade teacher gave my parents a call out of concern because she thought I was way too obsessed about food and with being thin. And I totally was. I remember being in High School (which wasn't that long ago fyi) and counting every single calorie that went into my mouth. Lunch was usually a small bag of pre-sorted cheerios, nuts, chocolate chips and marshmallows. I also made my parents take me to the gym before I was of driving age (pre-teens years) and I would work out for hours before having them come pick me up.
Basically, I was obsessed with being skinny.
Still am, if you want the honest truth.
However, over the years my thoughts and obsessions have shifted away from "just being skinny" and more towards "eating right to be thin and healthy." (Another fyi? I am nowhere near where I want to be in the number-on-the-scale department, but hey, who is?) It really started heating up when I was pregnant with baby number one. I was super obsessed with researching everything I could to have a healthy pregnancy slash healthy baby. I spent more time on google than I did sleeping. I read gobs of books about what I should eat, shouldn't eat, should do, shouldn't do, etc. I remember eating my weight in asparagus (I'm seriously surprised my baby didn't come out bright green) but I also remember eating a lot of chicken nuggets and fries and drinking milk by the gallon. Not that I overdid anything. I worked out religiously while pregnant and gained a total of 24 pounds.
After baby came, I lost the weight pretty quickly, but there was still that "skinny obsessed" part of me so when I was at the bookstore one day and saw a book titled
Skinny Bitch
, I bought it right away. I figured it would give me great diet info to be, well, skinny.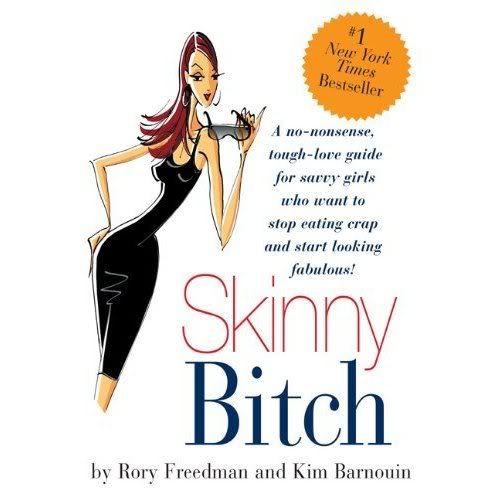 What I wasn't expecting at all was that it was not, in fact, a diet book, but reading it would change my whole entire perspective about food and it would change my lifestyle habits forever. The title of the book kind of gives people the wrong idea. I have suggested it to a lot of people and right away they turn their nose up, thinking, "Really? A book on how to be skinny? How unhealthy and like I need to read yet another diet book." But it isn't a diet book. Everyone I have talked to who has read it? Life changing. It has so much incredible information that you will be left stunned. And disgusted.
I promise you.
And then when people hear it's a book geared towards going vegan? That really turns them off. I'll be the first to tell you that I am not vegan, nor do I plan to be. I can't give up cheese. I tried once, didn't work so well. Vegetarian? After reading this book, I went hardcore vegetarian for a solid nine months. And I lost so much weight (the healthy way!), was the thinnest I had been in YEARS, and felt so good and had so much energy. Then I got pregnant again and kind of fell off the veg wagon so to speak. And the result? Gained all my weight back. (Pregnancy not being an issue. This was after baby number two). And to this day I don't feel nearly as good or as healthy as I did during those nine months. So?
Going back to the veg. Because this is how I looked when I did so before:
And don't take this as me being all "look at me! Look how skinny I was!", because right now I am a good 25 pounds heavier than I was in those pictures. And as much as I want to look like that again? To be that thin? I want to FEEL like I did back then. I felt so good, so healthy, so....clean. Because after reading
Skinny Bitch
? You will NOT be able to eat meat (or drink milk, but that is coming in a minute) without wanting to vomit. Only read it if you're willing and ready to give that up. (Side not: This is not me saying to become a vegetarian if you want to get skinny and healthy. I'm only giving my opinion and saying what has worked for me.)
The book. Get it. Amazing.
(You can read a FABULOUS review of the book right
HERE
. The author shares her opinions about the book good AND bad. They also have a pregnancy version called
Skinny Bitch: Bun in the Oven
for any of you pregnant gals out there).
Another life changer for me? The movie
Food, Inc.
Kind of has the same theory as Skinny Bitch, but instead of going vegan, they promote organic products. There is so much the farming industry does not want us to know. And what they don't want us to know is killing us. Literally killing us. You can NOT trust the FDA or the USDA. Here is a short movie trailer from Food, Inc. I highly suggest you rent and watch the whole thing. You will be stunned, once again.
Both the book I mentioned and the movie above give such insightful and shocking information. Such as what has happened to our chicken consumption, or rather, what has happened to our chickens:
That's not normal.
Moving on to milk. It does a body good?
That's right. Pus. The same "stuff" that comes out of pimples. Don't believe me? Read
here
.
I mentioned a few posts back that neither of my kids have ever had milk. They are almost two and four, and have lived their whole lives without cow's milk. Again, I know this can be a touchy subject for people who absolutely loooooooove milk (which I did before I knew
the truth
) and this is my opinion only and you are more then welcome to disagree. (Even though it's
the truth
).
So what do my kids drink? Organic rice milk. And water. Besides the occasional Pepsi sip my dad will sneak to my youngest (yes, dad, I see you) my kids have never had anything other than rice milk and water. (And let me also clarify that I am not saying I feed my kids perfectly. My kids get way too much sugar and chocolate and chips and cheetos and so on. Work in progess, people, work in progress).
But I don't want to fill this post up with a whole bunch of scientific information (that's why I highlighted all the links, so you can look if you please) so let's just move on to what a normal day is like in the Smith household. Or rather, what I
aspire
for our daily food regime to be.
I love vegetables. I guess that's where my wanting to be a vegetarian comes in handy. Like, if I had to choose one food group that I could not live without, vegetables would be it. Just love. On any given day, my countertop looks like this:
and my fridge is full of this: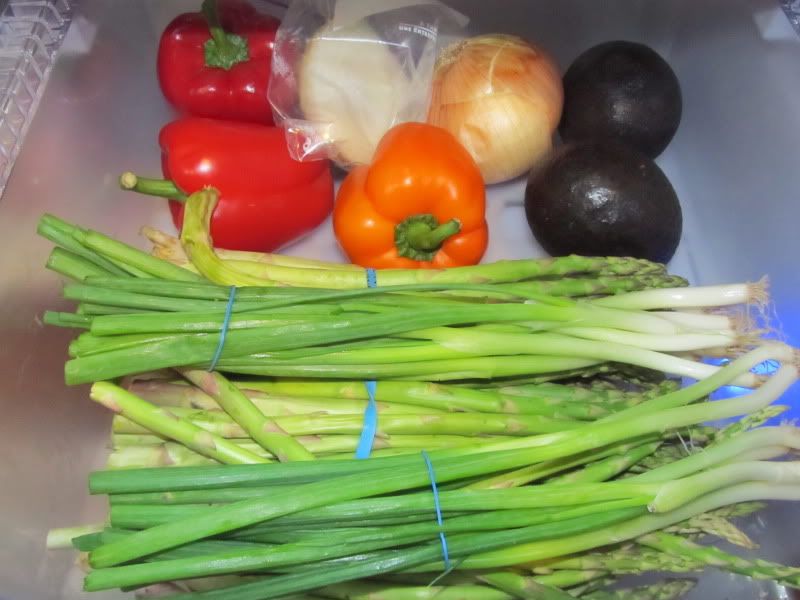 Tons of veggies. And cheese. I love goat cheese, and make myself a veggie wrap at least once daily. What's in my wrap? Goat cheese, onions, green onions, tomatoes, lettuce and doused with a good dose of Frank's Red Hot. (Best. Stuff. Ever.) I put on everything but the lettuce and microwave it for one minute. It melts the goat cheese and makes the veggies a little soft. (I've also been trying to use the microwave a lot less. In the future, I might start putting my wrap in the oven for a few minutes to heat it up. I need to research the potential dangers of microwaves a little more).
(pic taken before lettuce was put on)
Btw, I'm no food blogger, so my pictures won't be all professional looking or anything ;)
What else do I do with all these veggies? My two favorites are veggie pizza and stuffed peppers. Super easy and seriously? Mouth watering. Who needs pepperoni and sausage?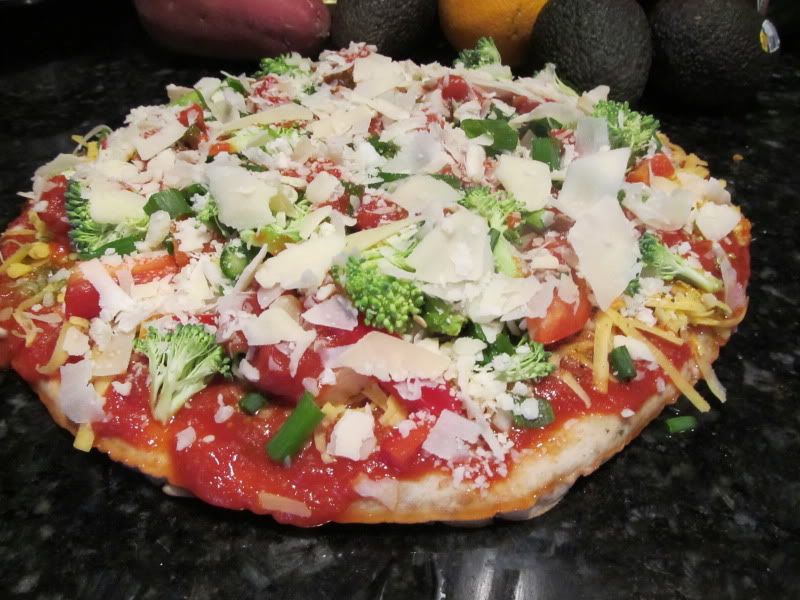 (I don't have exact recipes but you can look them up online and find something similar. I also put a lot of goat cheese in the peppers)
A little trick I use to get the bambinos to eat their fruit? I crush up whole grain cheerios in a bag, slice up some bananas, then shake them in the bag so they are coated with the crushed cheerios. I learned this trick from a friend who said her child didn't like picking up things like bananas and strawberries because they were "slimy," as is a complaint with most kids. Problem solved! And you can use this cheerio trick with just about any kind of slimy food.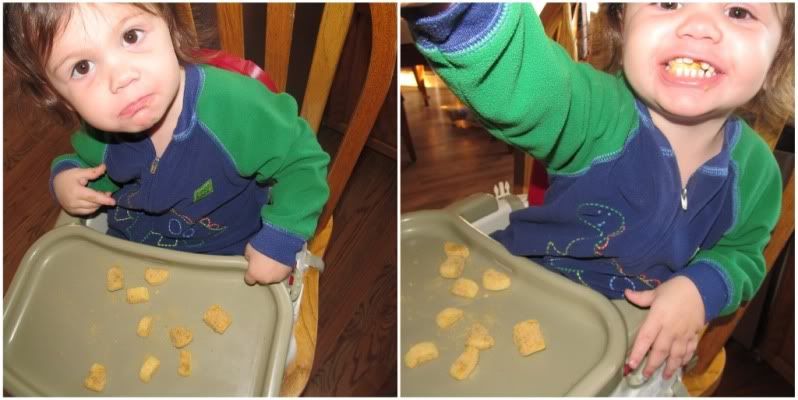 So yes. This momma right here is going to change my eating habits aka my lifestyle and start living healthy. Will I have a cookie here or there? That's kind of like asking will I have a glass of wine tonight? I'm no saint and no one can be perfect all the time. But sometimes after receiving certain information, you can't go back and you can't forget what you have learned. Trust me, if you read
Skinny Bitch
and watch
Food, Inc.
? You won't be the same. Sounds silly, but it's true. And if you do? Please let me know! I love discussing things like this.
Let me know your thoughts!
p.s. Two more fantastic books about learning the truth about food is
In Defense of Food
by Michael Pollan and
Animal, Vegetable, Miracle
by Barbara Kingsolver, about a family that, for one year, only bought food raised in their own neighborhood or food that they grew themselves. Very enlightening.
p.p.s. I know I said I would talk about our alternative vaccine schedule on this post but after writing it, it just became so long that I will save that for a separate post, to come soon, promise!