"Tattooing is about personalizing the body, making it a true home and fit temple for the spirit that dwells inside it.
"
Michelle Delio,
Tattoo: The Exotic Art of Skin Decoration
You usually either love 'em or hate 'em. You would or you would never. This momma? Loves. I'll save you all the psychobabble on how people who have tattoos are "deep, intellectual free spirits who see meaning in the extra ordinary etc, etc." because I know a lot of idiots that have tattoos. But, they are personal (even if "personal" means that all the girls of Kappa Kappa Gamma get matching Tinkerbell tattoos) and they do make a statement.
Last Friday night I went and got my 8th tattoo done. (You can see my other 7 tattoos
here
.) My three year old wanted to come and see how they did it, so off we went. With his mohawk, toy motorcycle and oh yeah, stuffed zebra in tow. The zebra totally gives him an edge I decided.
Simmer down boy. It will be your turn next. Give it about 15 years.
He sat patiently waiting, until he wasn't so patient anymore and wanted a little closer look. And then he kept bumping into the table I was laying on while the tattoo artist was hard at work. Don't know about you, but I would prefer someone to
not
bump into the table and give it a nice little "jolt" while a needle is getting drug through my skin. Alas, everything turned out perfect.
It's my new favorite tattoo.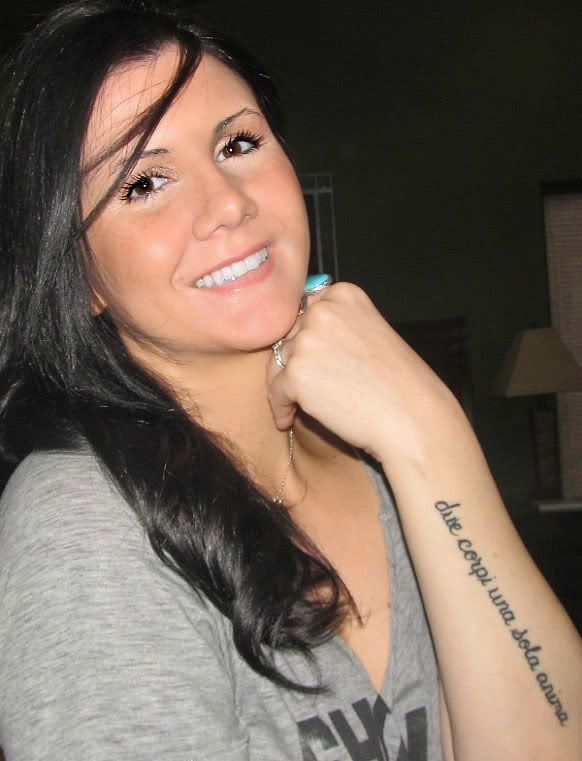 "due corpi una sola anima"
=
"two bodies, one soul"
translated from Italian. For my
Nonie
. She was Italian and most definitely was my other half. Or rather,
IS
my other half. Like I said before, I am who I am because of her. We came from the same mold. And I know she was watching me as I got that tattoo, smiling and giving God a little nudge while saying, "see her? She's mine. She's carrying on my spirit down there." And yes Nonie, I most certainly am.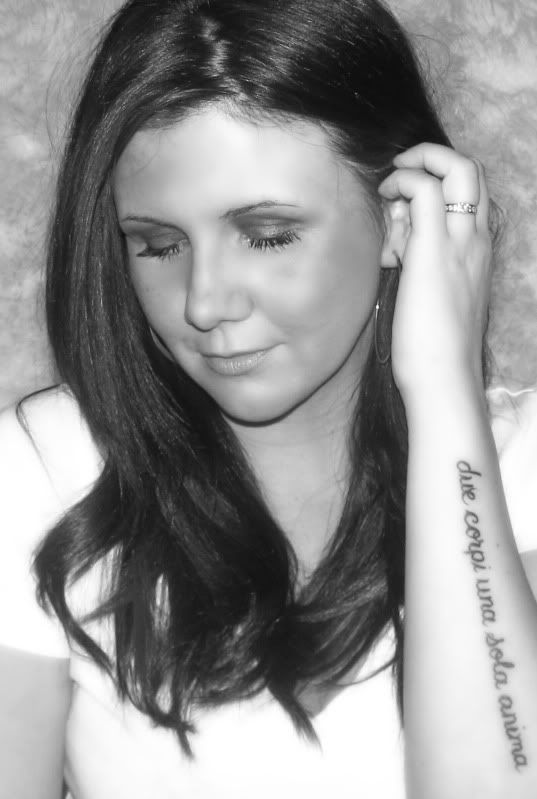 She always loved my hair dark. I dyed it back a few days ago. And
this
time I'm keeping it. Swear.
Ok, one more picture. Can you tell I love this one?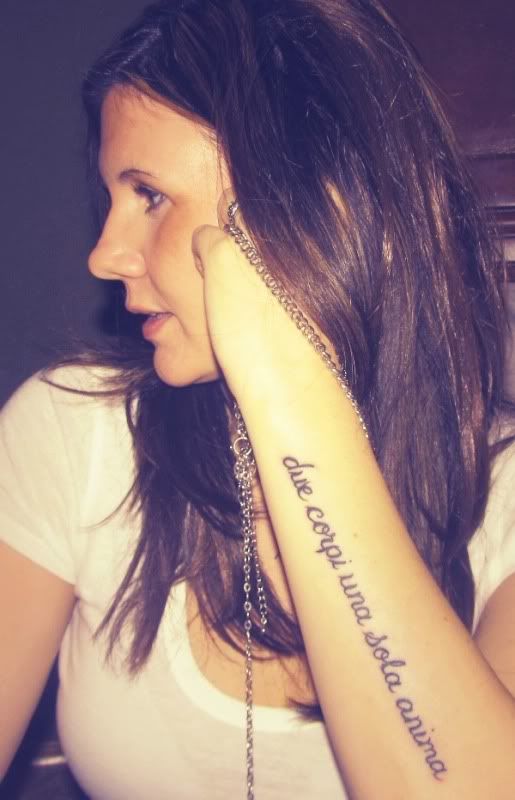 Yes, I do.
And looks like the apple doesn't fall far from the tree. From an early age, Gunner has been totally into tattoos. And by tattoos, I mean little kid stick-ons comprised of Thomas the Train and Lightening McQueen.
Exhibit A: Picture taken circa 2010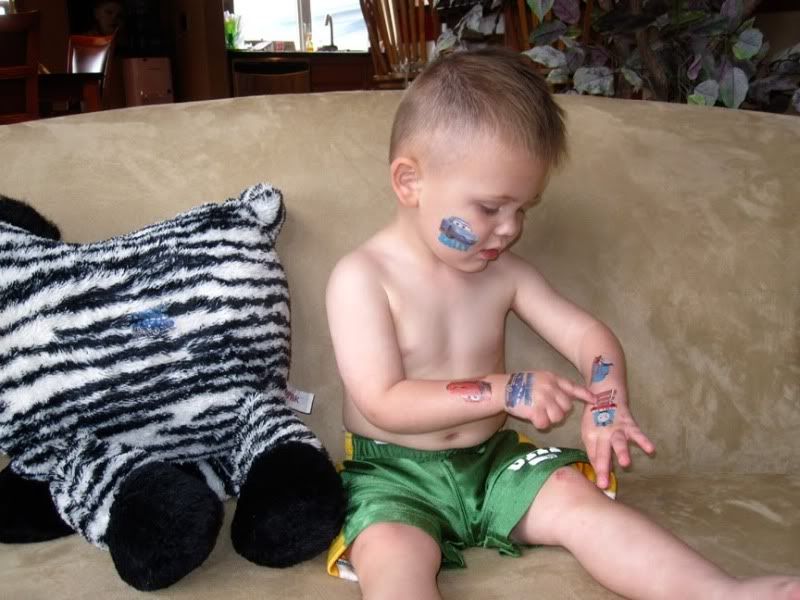 (look closely and you can see that his friend the zeb is sporting a little ink himself)
Exhibit B: Picture taken circa 2012, aka yesterday
That's his best "badass face" to go with his sleeve tattoos. Boy after his momma's own heart right there.
And now, for a few of the most frequently asked questions that I get about this topic...
Does it hurt? And what area on your body hurts the most? Yes. But it's kind of like childbirth. (Although childbirth is fifty billion times more painful). It hurts while it's happening, but afterwards, you get such a good reward out of it that you forget how bad the pain was. So you just keep going back for more. As for the most sensitive body part, for me personally, it was my Raven tattoo, on my lower right hip. The skin there is thinner and it was just flat painful.
Are they addicting? Do you want more? Yes and yes. Ask anyone. Once you get the taste of one, you want to go back for more. I still have a few others in mind that I will be getting in the future.
Does your husband like tattoos? No. He has never liked tattoos on women. However when I met him I had five already, so he must not dislike them that much, right?
What does your family think about them? Aka your mom, dad, sisters, immediate fam. Well, my mom gave herself a tattoo in Home Ec class when she was a freshman in high school. And when I got my first ever tattoo, my dad took me aside and whispered in my ear, "just between me and you, I really like it." My sisters both have one. So I would think it safe to assume that they approve. Besides, we come from a very non-judgement family.
What would you do if your sons came to you and wanted a tattoo? Considering they were 18 years old, I would take them and pay for their first one.
Yes, tattoos. A matter of taste and personal preference. I, for one, am a believer. You? Have one? Undecided? Thinking about getting one? Link up below and show us what you have/what you are thinking of getting some day!
Peace, love and ink!