some of you wrote back with the likes of
"aww, that is so sweet! Isn't playing with your kids so much fun?"
and
"you are such a good momma. Aren't these times the best?"
See, I think you may have misunderstood me. Yes, I was in tears. And it
was
very, very joyful. However, those tears were the result of my unbridled laughter at seeing my three year get whipped off the sled at high speed and skidding face first across the snow. But we'll save that for a little later in this story...
Let's start with...what is wrong with children? I mean, they like to stuff m&m's up their nose, they would rather, literally, eat dirt than vegetables, they can watch the same movie over and over and over and over and over all day long and oh yes, they actually
enjoy
playing out in the freezing cold snow. For hours. And the only problem with that? Momma has to go out and play with them. And it completely sucks. Let's review the process, shall we?
kids beg and beg to go out and play
finally, mom says yes
it takes approx. half an hour to get all their gear on, all the while they are bitching and complaining because they are "too hot" and "my pants are too tight" and "my glove keeps coming off" and "mooooommm!!! I have to pee."
Then you take them outside, and the wind is whipping snow in your face and you are freezing cold and you forgot to wear socks with your wellies so your toes are frozen and you have to take pictures of the whole thing to document which in turn results in your fingers practically falling off from frostbite.
But you always hear from mothers...
"it was so worth it."
I'm here to tell you friends that those people lie.
And I can prove it.
Does this look like the face of a happy child?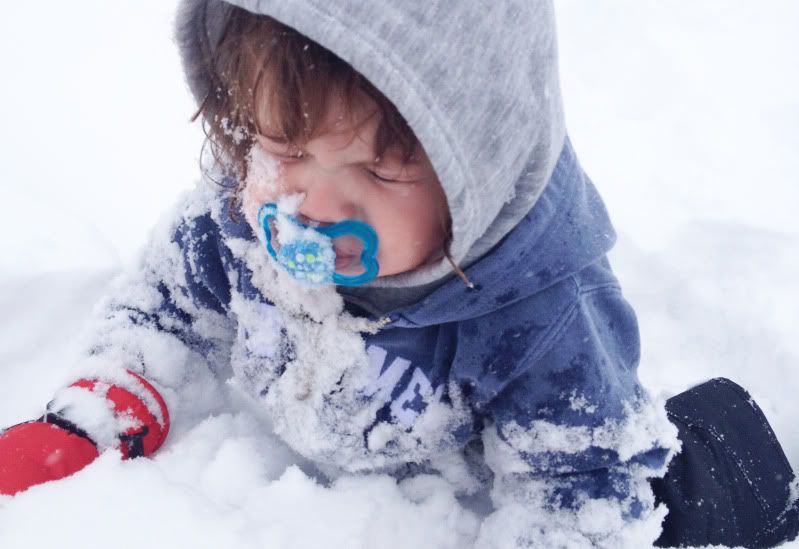 Does this?
I'm telling you, there is nothing like a snow packed pacifier shoved in your mouth that screams this. is. so. much. fun. Oh wait, falling down and not being able to get back up because of the mountainous layers of clothing is right up there also.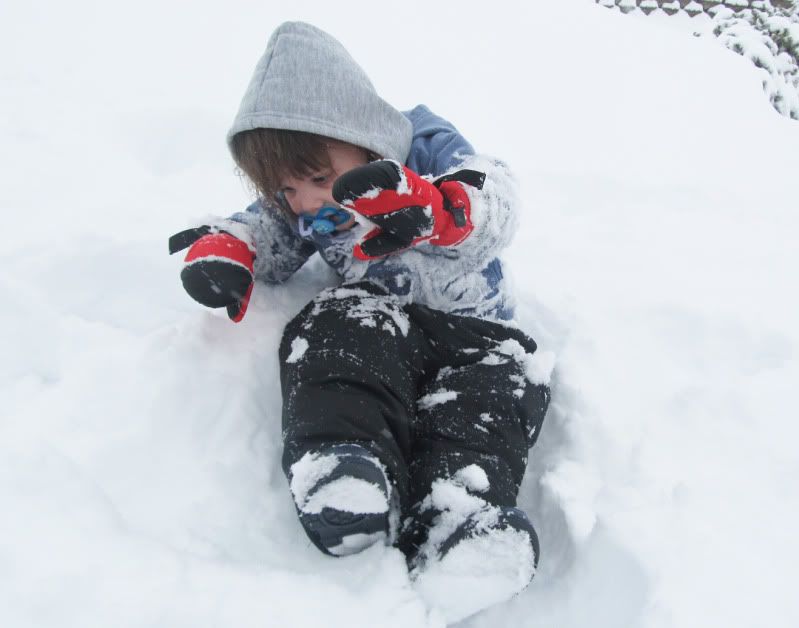 Wait, he looks a tad happier here, doncha think?
(I can imagine what he is thinking... "I trusted you mom. You were supposed to take care of me and not put me through all this torture just so you can take pictures and put them on your blog. I am not a toy. You just wait though, I have plans to put you through hell during my pre-teen years. Sucker.")
Not all was lost, though. My three year old is just old enough to somewhat enjoy playing all day in the snow. With momma trailing along of course, hot chocolate in tow. Oh who are we kidding. It was mostly vodka in that cup.
You all know me too well.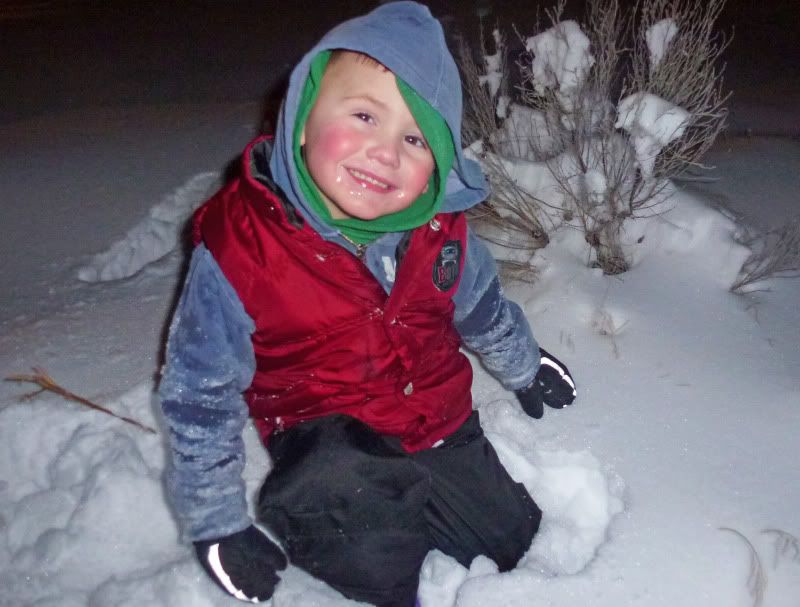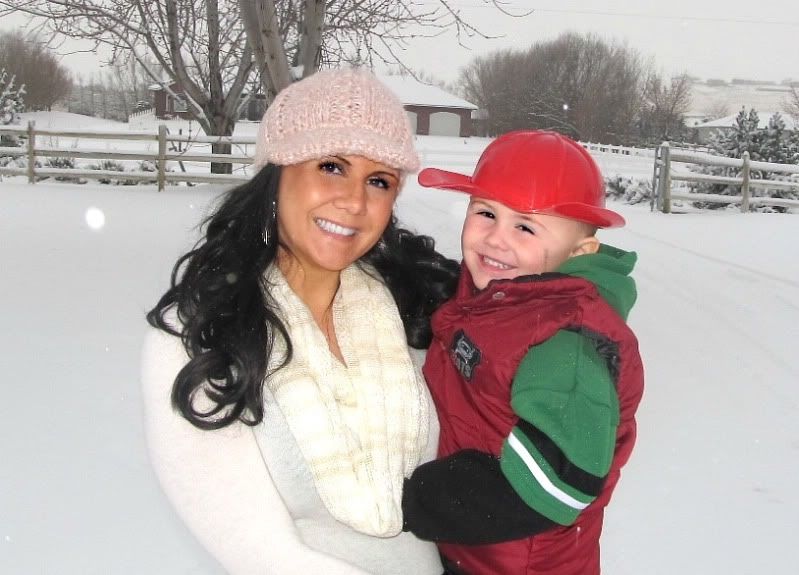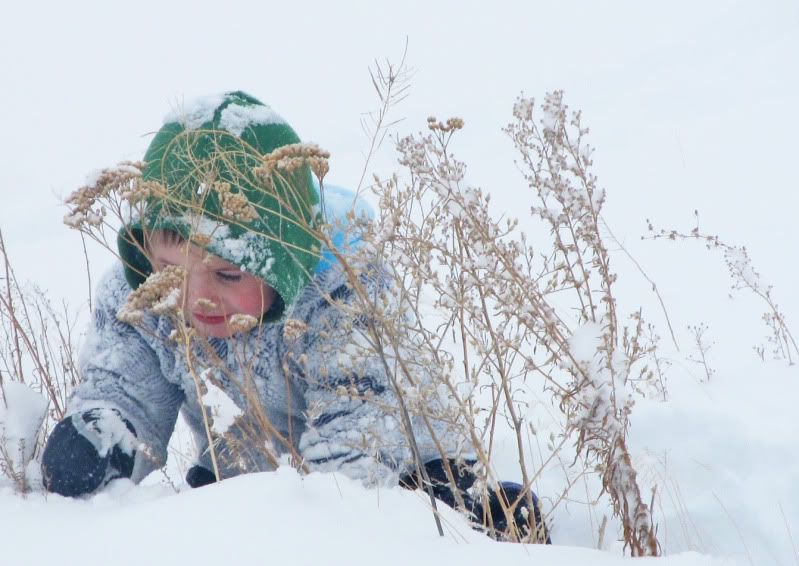 We fed the horses...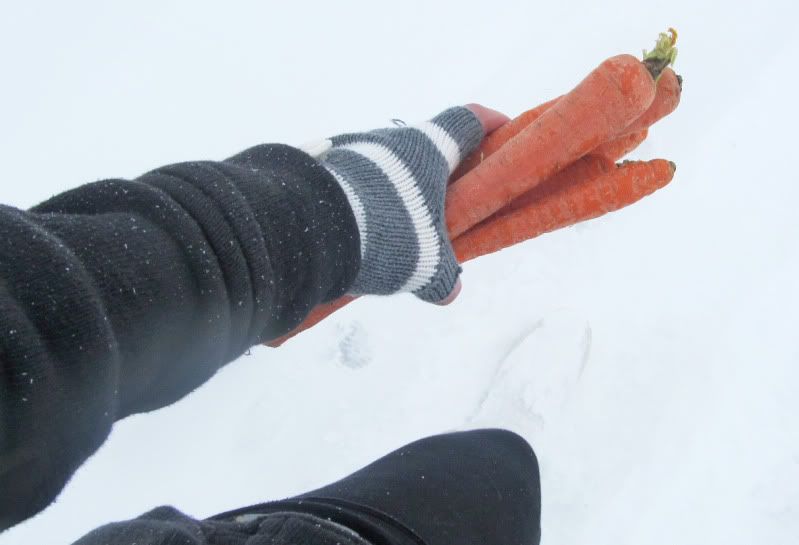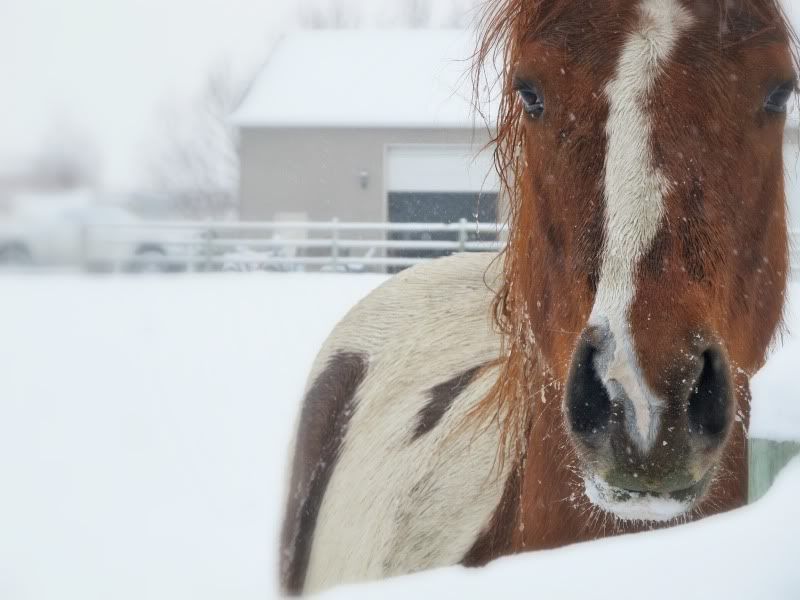 aaaaannnd I guess the white stuff does make for a good backdrop for impromptu momma photoshoots...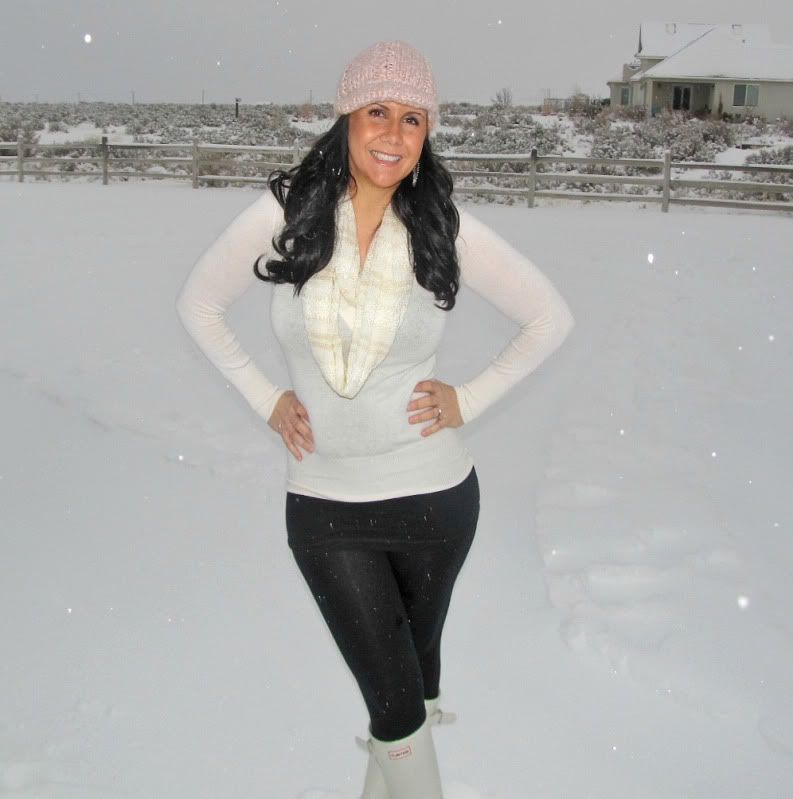 And ok FINE. There were a few smiles during this little outing.
See?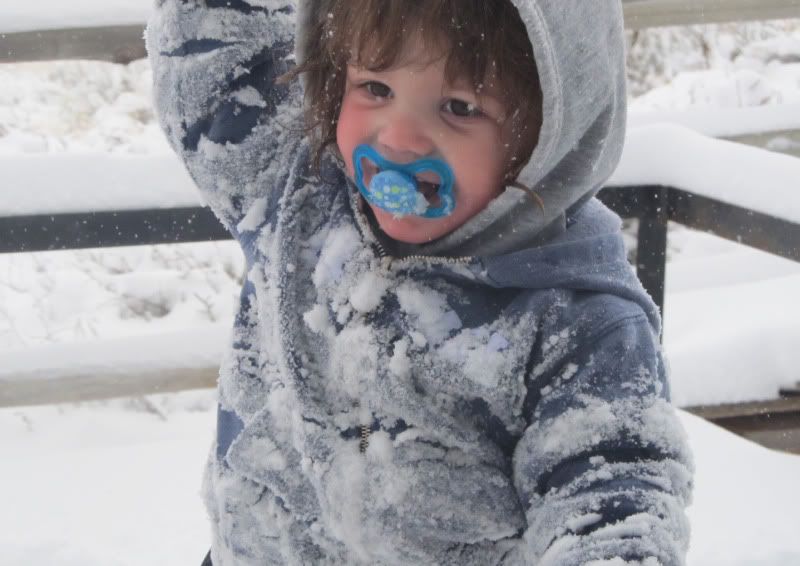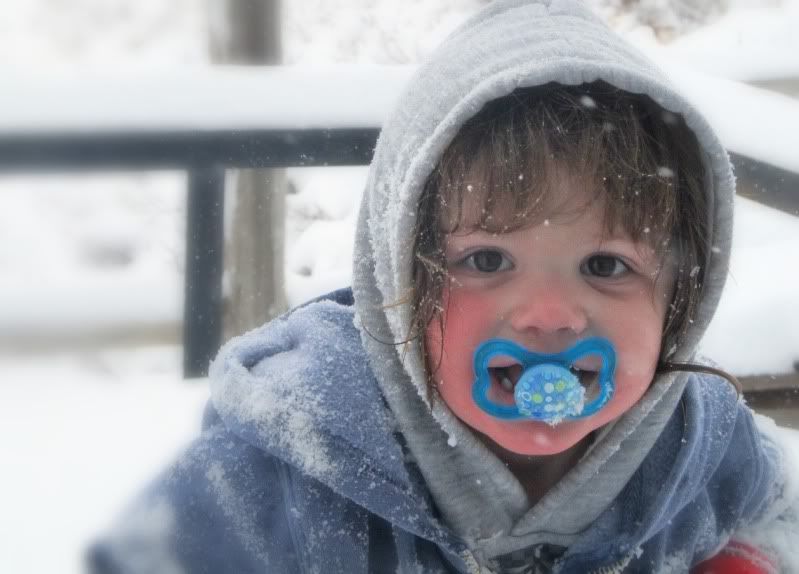 And finally, what you have all been waiting for. The reason behind my tears of sweet, sweet joy. Hubs and I hooked the sled up behind the tractor, and took the boys for a ride. The little one didn't like it much, so he preferred to stay in the drivers seat with dad.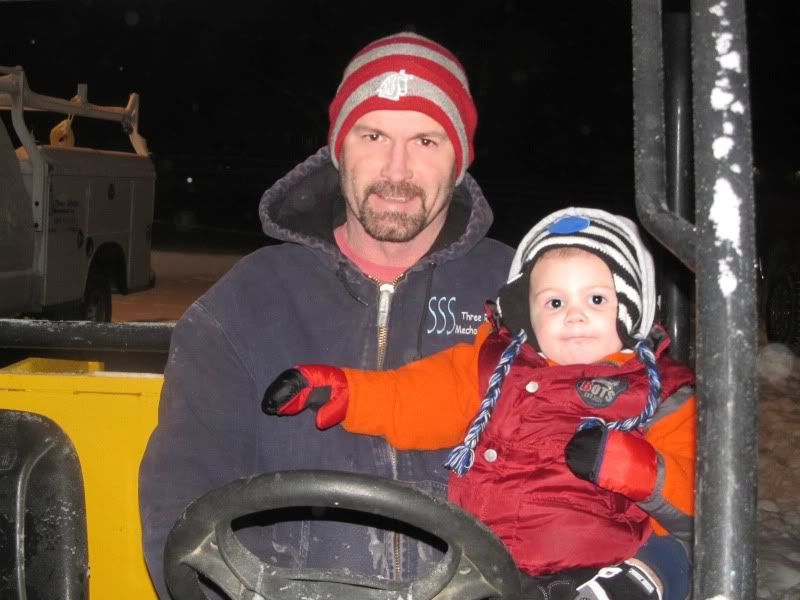 But Gunner? He was in winter wonderland heaven.
After a few tame rides around the neighborhood, I told hubs to "take that corner right there really fast and try to flip him off." As I have stated on this blog before, at the bottom of
this
post and
this
post, I feel my job as a momma is to prepare my kids for the real world. Hence my desire for hubs to throw my firstborn off the sled and get all that icy goodness glued to his face.
Hey, life isn't all roses and fun sled friends.
I wasn't sure he was going to do it, (he doesn't like causing grief to our kids and he definitely doesn't share my feelings in getting complete amusement out of our kids' misfortunes) but after me asking over and over again, he finally did it. Hubs whipped around that corner and it was like watching bowling in the snow.
It was magical, friends.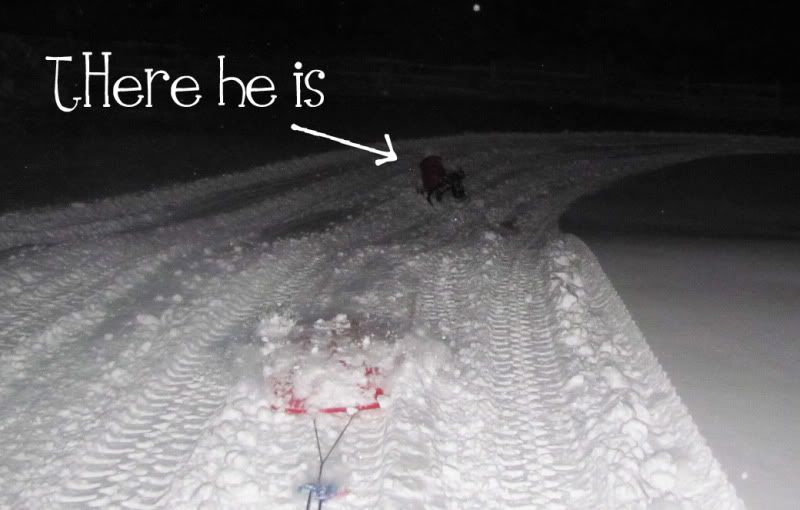 We circled back to retrieve our now shivering, baffled little angel baby, and I just could not help myself. His face of utter confusion and betrayal was priceless. And I lost it. Hot tears dripped down my face. And
those
were the tears I was talking about.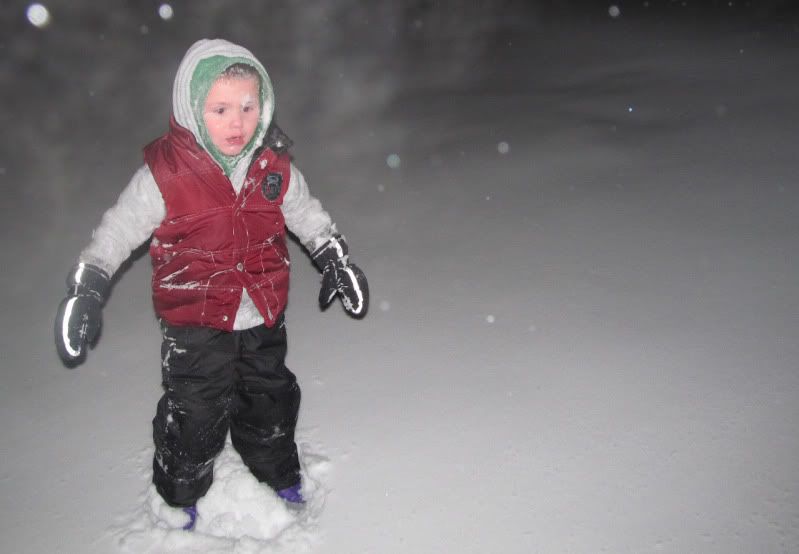 And the best part? He shouted "daddy you made me fall off! I'm mad at you!" And didn't speak to him for the rest of the night.
Now
that
was worth it.