I love tattoos. Love. I know they can be extremely trendy at times and seeing someone resembling Elle Woods from Legally Blonde sporting a butterfly tattoo on her ankle might make you chuckle, they are still an expression of self and personality. Even if that expression is a butterfly ankle tattoo.
A few of you have asked me at times how many and where my tattoos are. I have seven so far and yes, I want more. The first one I ever got was when I was 17. I was actually sitting at a restaurant with my parents, telling them about my desire for a tattoo, when they said, and I quote: "Raven, we will pay for your first tattoo if you wait until you are 18." I was five months shy of turning 18 so I'm sure you can assume what I did.
I took my fake I.D. and drove 3.5 hours to the best tattoo shop around.
And I got a daisy on my lower back. You read that right, a daisy. Elle Woods, say what? See, I was a tad boy crazy back in the day, and I swore the motto of my life at that time was "he loves me, he loves me not." My plan was to get that quote tattooed in cursive around the daisy. Here is what my first tattoo looks like today:
As you can see, I never got around to getting that quote. Just the daisy hurt like a bitch that I made him stop halfway through and never returned for the words.
But I was only 17, and I have grown and matured since then and am not as big a pussy. As my second tattoo can prove, clearly.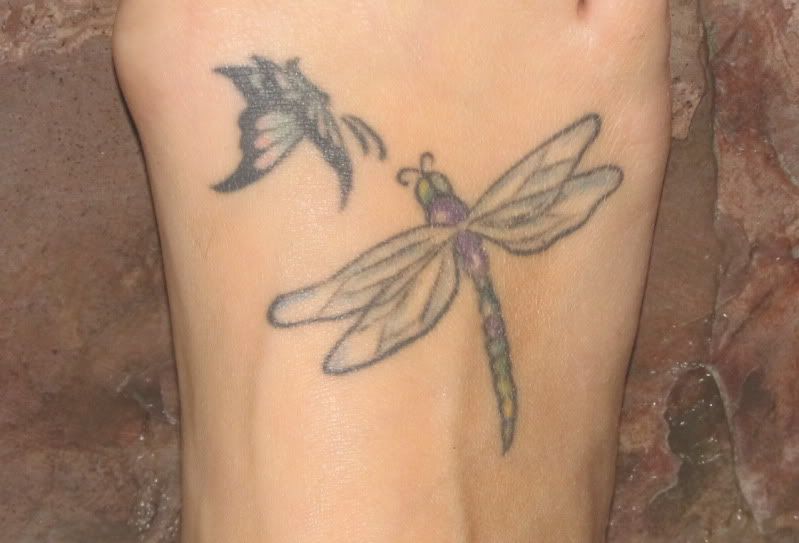 Well I'll be damned. A butterfly tattoo on my foot. I tried to bad-ass it up by throwing in a dragonfly (oh my!) but I think I just upped the Elle Woods factor. Oh well, at least they're...cute?
Ahem. Moving on. I have two wrist tattoos. First is a chinese symbol on my left, which I swear I got way before they became popular and trendy. We're talking 10+ years ago, friends. It means "strength and courage."
And yes, it
does
actually mean that. I'm sure you've heard of people who get chinese symbols that supposedly mean "family or trust or truth, etc", but in all reality what it really means is "dog excretion" or something along those lines.
The other wrist?
Probably the one I get complimented on the most. Especially at drive-thrus. Ha.
Perhaps the most authentic and personal? The Raven on my lower hip.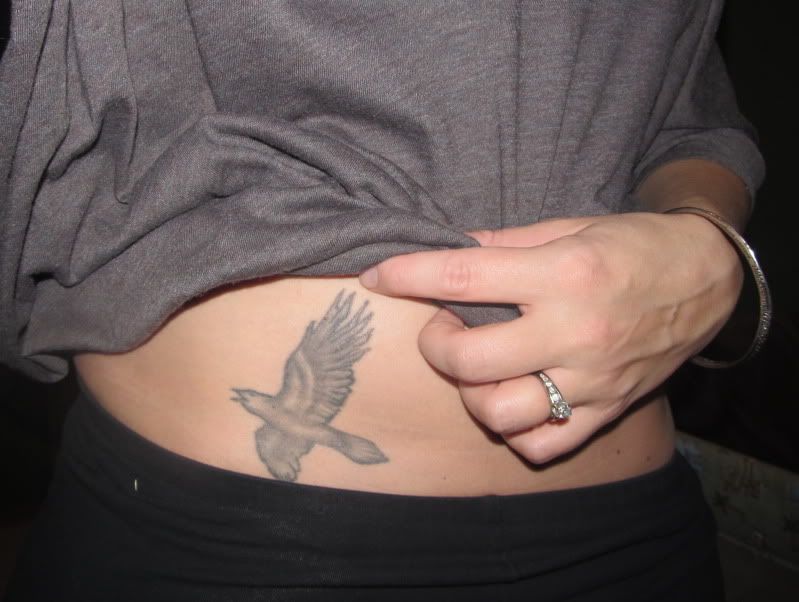 And if you dare call it a crow, I'll come after you.
Next is a cross on my back, which I plan to elaborate on and add to someday. Soon.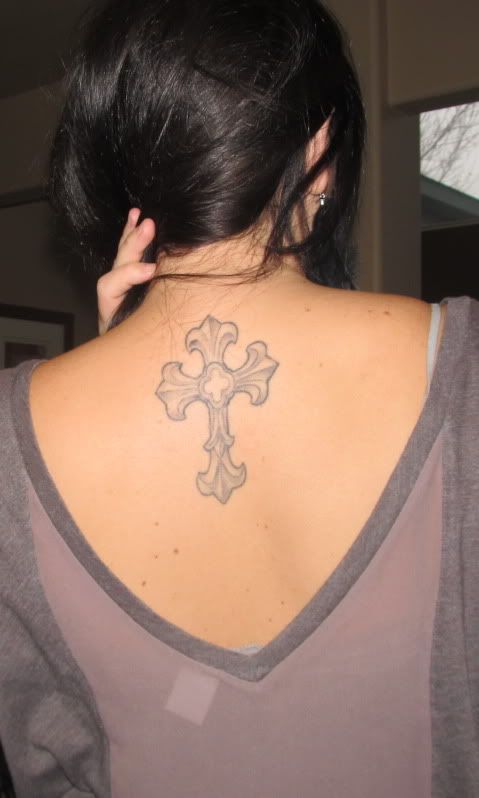 And after great debate, I decided to just keep it real here and show you the ass tattoo. My husband's name.
Left cheek.
Bam.
And that's it. For now. I have plans for a few more, definitely something incorporating my kids. Most likely something to cover-up that horrendous daisy. The butterfly can stay.
I have a few ideas of what I want, and most I got from pinterest. (You can see my tattoo board
here
.) I know I want something music related. Remember
this post
? Music plays in my soul. These are a few I found that caught my interest...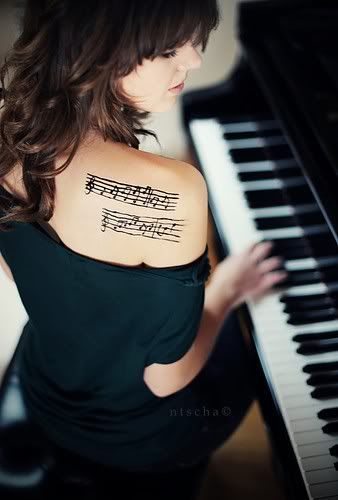 Something else I am loving? The feather tattoos. However, they are so trendy that I doubt I would go that route. They do look cool though...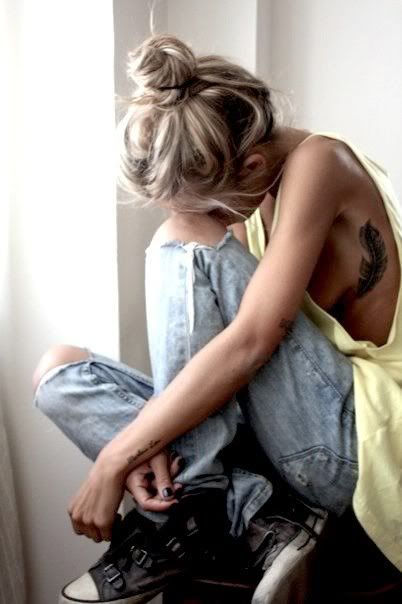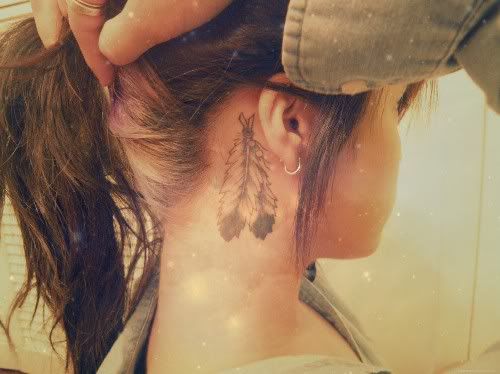 As for placement? Definitely getting one here...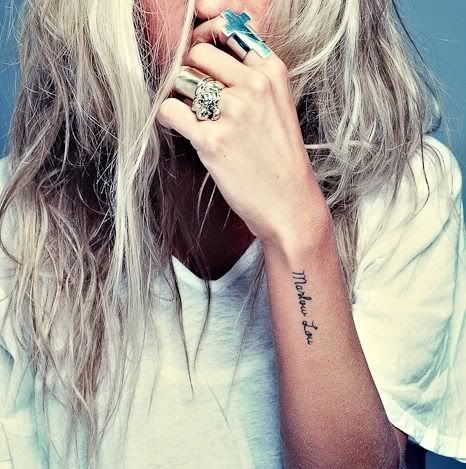 and/or here...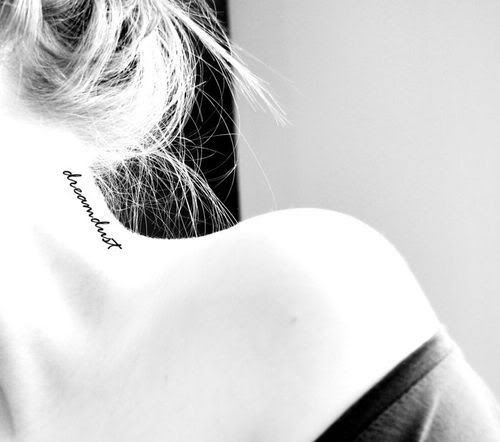 Love this...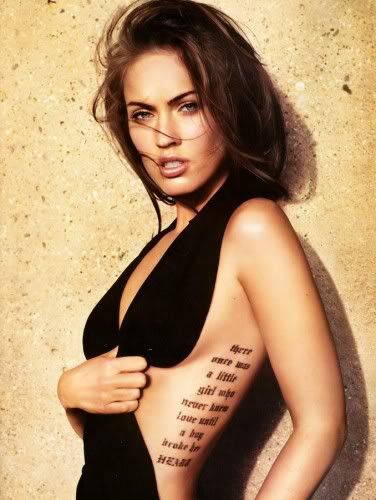 and this...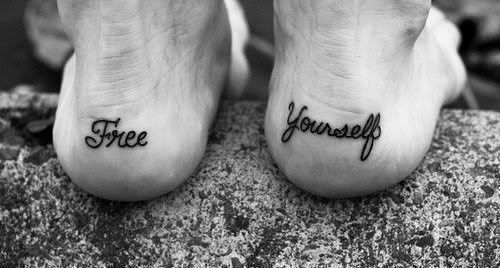 And if I could? I would totally get a sleeve tattoo. I would. However, hubs would probably disown me. Then again, I
did
tattoo his name on my ass. That has to give me some sort of leverage, right?
What are you thoughts? Do you like tattoos? Hate them? Think they are sexy? Cool? Trashy? Have any? If you do, let me know. And if you decided to post yours also, be sure to leave me the link.
P.S. I am also guest posting today over at
Kristen's blog
. There may or may not be a picture of me in a speedo bathing suite...