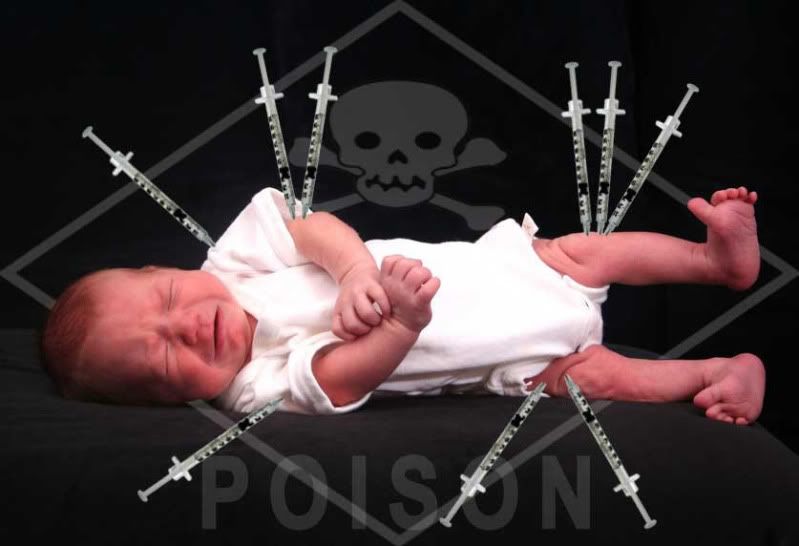 Or rather, let me be more clear by saying that my kids go by a very non-conventional vaccine schedule. My almost four-year old has not yet had the MMR shot, which is standard for toddlers 12-18 months old, according to the
American Academy of Pediatrics
.
I do not go by the schedule that the AAP sets as
recommended guidelines
. My kids did not get the HepB vaccine that is basically customary at birth. I had to almost strong arm the nurses to make sure that my children did
not
get the HepB vaccine. And I got some sneers from them because of my decision.
See, my boys have gone to a
naturopathic doctor
since birth. However, I think I should make something clear as day. As much as I believe in naturopathy for my kids, I personally want all the (legal) drugs I can get my hands on (semi-kidding here). Most people who follow the naturopathic lifestyle believe in natural birth, with no pain killers of the sort, but me? Like I said
here
in my birth story, I demanded to be pumped full of meds to keep from feeling the horrific pain of childbirth.
So, as much as I demand for my kids to abide by a certain unorthodox standard, I myself certainly go by another. Hey, it's called "do as I say, not as I do." And it's a God given right of motherhood.
But really, honestly. I believe 100% wholeheartedly in a
naturopathic lifestyle
. There are some (standard) vaccines that my kids will never receive. And they never get more than one vaccine shot at a time. Up until two years old, neither of my boys had ever had store bought medicine. They have never had a drop of physician prescribed antibiotics. If they get sick, and they do, their doctor prescribes them all natural herbal medicines. And I have been so pleased by the results. For me personally, raising my kids this way gives me such relief and confidence that I am doing the right thing.
For us.
I know what I am about to say is very controversial, but I have researched to the depths about this topic: when I was pregnant for the first time, I spent a lot of my free hours on the computer, researching, reading books, and talking to professionals about my fear of the over-vaccination of our kids. And I believe without a doubt that certain vaccines exacerbate some developmental disorders, such as autism. I am not saying that vaccines cause certain disorders, because of that I am not sure. But I do believe they increase the likelihood if a child is already predisposed to certain disorders. I believe that and I am not afraid to admit it. I keep it real here and this is my space and my opinion, and everyone reading has a right to their own opinion, but for me? I have no doubts and I am completely reassured when it comes to this subject.
I would and could go on and on here, but I have no idea if this is something of interest to my readers. Do you guys actually want me to delve deeper into this issue? To express my thoughts, beliefs, findings and convictions? Do you want to know more about why I feel exactly that our vaccine schedule is doing a disservice to our children? You know me and that I don't shy away from controversial subjects or try and shield my true thoughts for the sake of "politically correctness." I just want to know if this is something that peaks the interest of all ya'll.
If it is? Great. I will go deeper and write more in depth on this topic. If not? I have a million more things on my blog to-do list.

ps. as always, this is my personal opinion. I don't push my opinion on anyone. That is the greatest thing about this country we live in, we are all free to choose and do what we want, and to raise our children in the way we see fit.


pps. I should also state that by the time my kids reach Kindergarten age, they will basically be up-to-date with most of the required vaccines. I just delay some and never have my kids receive more than one at a time.