Ahh, my summer paramour. My beloved. My Romeo. By now, if you have been with me for a while, you know that when the weather warms up,
the snakes come out
. And I know, I
know
they are coming. I
expect
them. I walk out the front door assuming I will see one. I look right, left, and right again before I ever step foot out of the house. But still, every time I see one, my stomach sinks into my knees. My body does that physical "shudder" thing. It's just so jarring to see a vapid thing in
my
space. My home turf. Where my
kids
play.
I swear. I think they are wooing me. I'm pretty sure I saw a wink from one today.
This one, to be exact.
First snake of the season. I hate snakes. I've yet to come across anyone who doesn't. I've begged and pleaded with my husband to get us the
hell outta here
and move us somewhere, anywhere, where these serpents don't try and hunt us down. But today? Today I got a little sad when my husband smashed him into the ground with a broom handle. I genuinely said to him,
"do we really have to kill him? Can't we just like, throw him back into the sage?"
Not sure what it is exactly, but I'm getting a little...shall we say
fond
of my yearly friends. I've been in this house eight years now, and even though the initial shock of seeing them makes me feel like I'm having a heart attack, I kind of...
like them
.
I feel a bond forming.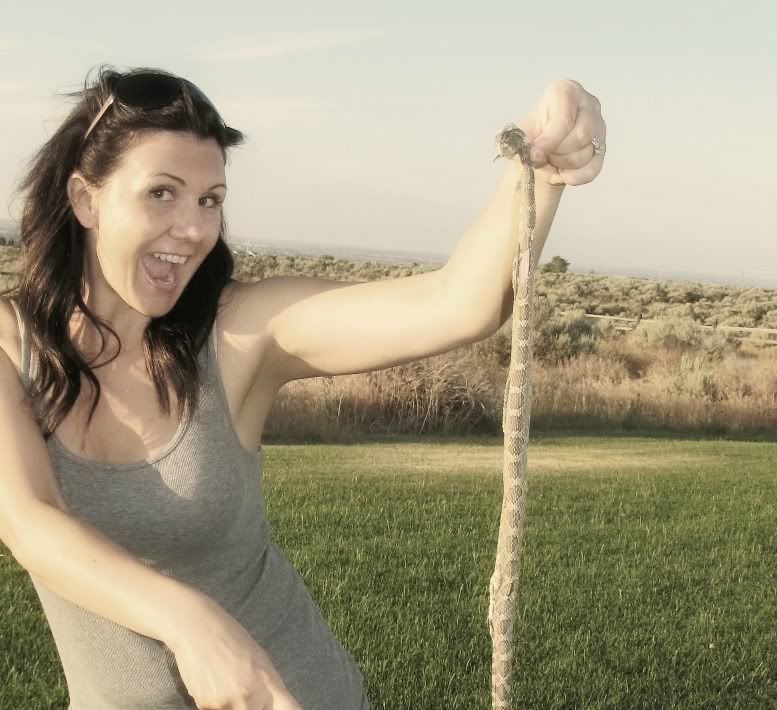 Of course, that bond only happens when they are dead, when I can pick them up and touch their nasty slimy scaly skin. When I can look closely at their fangs that they would be more than willing to sink into my flesh given the chance.
I hate snakes.
Looks like someone else has the same "bond" that I do with them.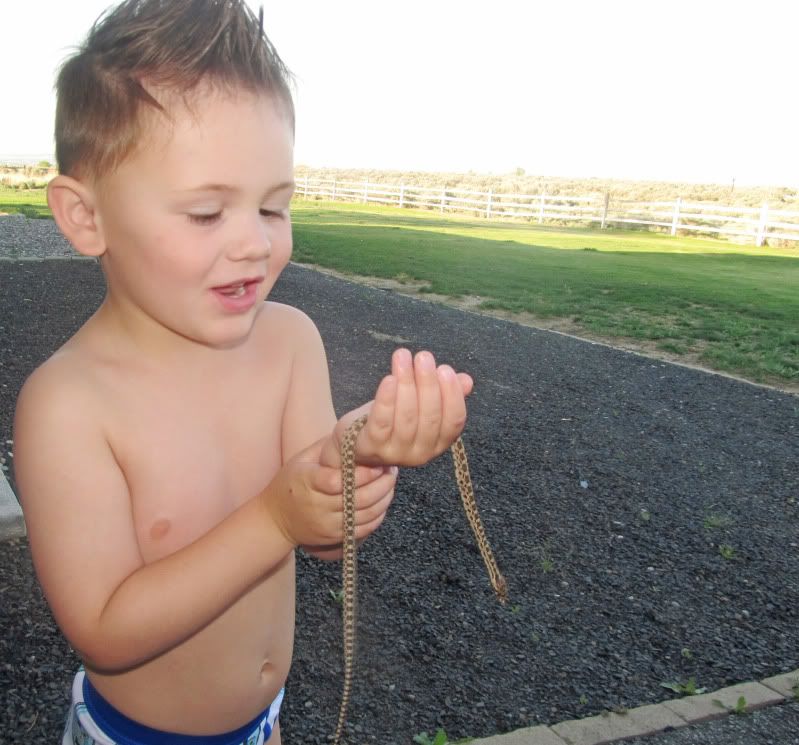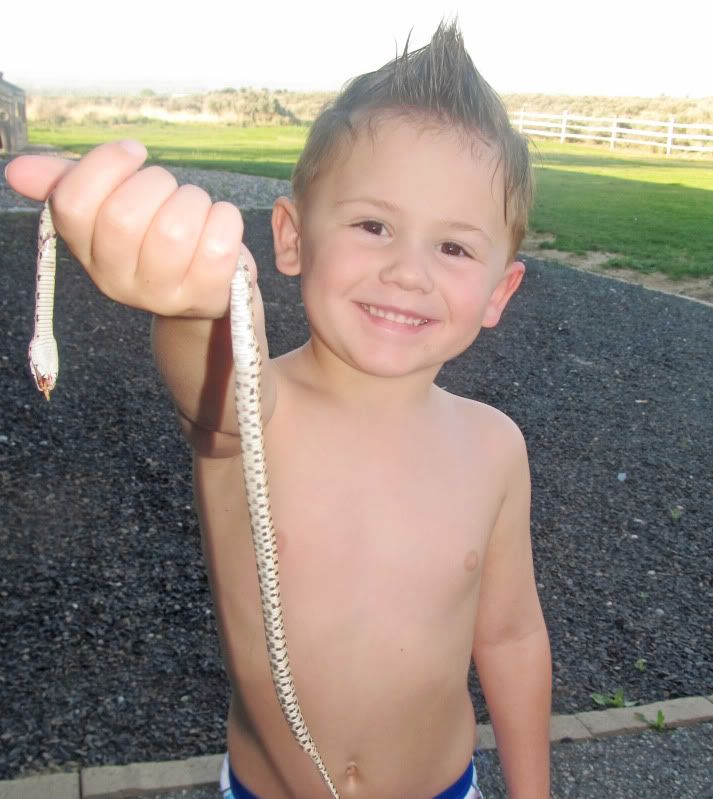 And then he took it inside to show dad.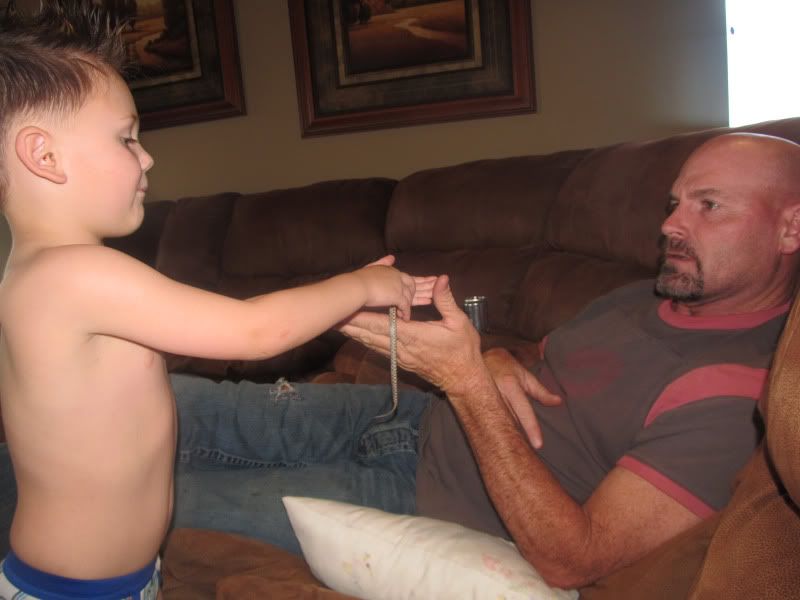 Like I said once before, momma ain't raising no pussy.
Oh, I also received this text from my sister last night...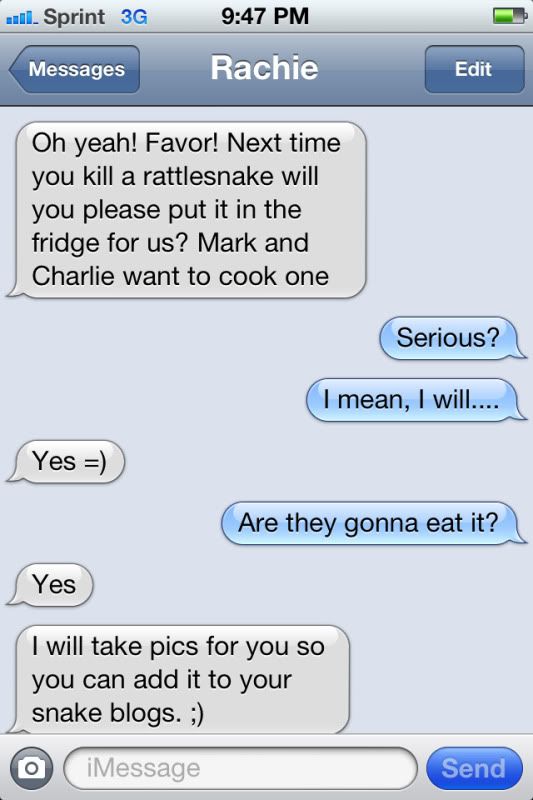 My family. I swear.
Of course, I will try a bite of rattlesnake.
You know, for blog purposes.