They say we all have a twin somewhere out there.
Someone who looks just like us.
However, since most of us can't scour the world ten times over to find the one person who is our mirror image, we are most often compared to socially known/famous people.
I've gotten compared to lots of people. It tends to change with my hair color, however there are a few names that keep coming up over and over. I either a) find it flattering when the person they say I resemble is a drop dead gorgeous supermodel or b) am completely insulted if they say I look like someone who resembles a dirty prostitute on crack.
That said, I have always found it interesting to see who other people get compared to most often.
Take my bestie
Lindsey
, for example. One look at her and it isn't hard to figure out what name she hears pop up most often...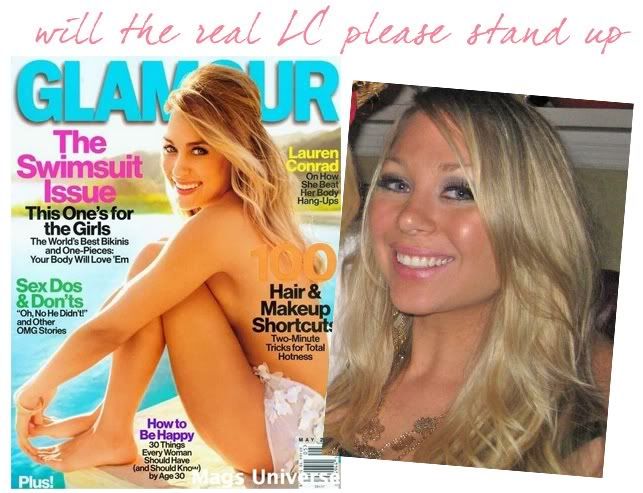 Bitch never even told me she was gonna be on the cover of a magazine.
Anyway. Like I said. I love hearing who others get compared to most often, and then seeing their pictures side-by-side. So. I decided to host a one-time link-up where ya'll can post about who you think you look like, or who you are told you look like from others, and then post a side-by-side picture and we can all visit each other's blogs and see for ourselves. Doesn't that sound like fun?
I think so.
So here's the deets. The one-time link-up will be next Tuesday, April 17th, so get your posts ready! If you don't already have a good idea what celebrity/famous person you look like, ask around this weekend who people think you most resemble, and then find the best pictures of yourself and that person and do a lil' side-by-side action, write a post about it, and come back next Tuesday to link-up here!
Seriously. This could get pretty wild. Especially if the person you hear the most is someone you consider totally unattractive ha! Take it from me, I've been compared to a few hot messes quite a few times (and not the good kind of hot mess either).
Need some help? There's a website called
"Find My Doppelgänger"
where you upload a pic of your mug and they match you up to someone who most closely resembles you. Be sure to read the directions on how to properly upload your pic and what you should/shouldn't be doing (for example, they don't want you to smile or have hair hanging in your face).
Another interesting look-a-like site is called
"My Heritage"
and they give you up to ten celebs who "resemble" you. I put that in quotes because I can't tell you how many times my sisters and I have cried from laughing so hard at who the other gets matched up with. Let's just say that my one sister kept getting matched up with a certain celebrity MALE. Freaking hilarious.
So there it is! Get working on your post and I'll see you back here Tuesday morning to link-up! You may or may not be surprised to hear who I most often get...