.
When I posted the above picture on instagram, a few of you asked if I could do a tutorial on how I curl my hair. I predict I will look like a total tool doing so, but your wish is my command. Stay tuned...
Also posted on instagram this week:
I know. DISGUSTING. That is what I woke up to the other morning, right as I was getting ready to use the loo. I fah-reaked. I mean, what the ?? I have never seen mice in this house since I moved in, almost eight years ago. And now there are
two
?! Floating dead in my toilet? When I posted this to instagram, someone said that if there were two in my toilet, there were most likely more running around.
And they were right. I went to open my kids' clothing drawer and one ran
right. over. my. hand
.
I'm surprised every single one of you reading this didn't hear my scream.
I mean, did mice eggs hatch in our house
overnight
? I mean, do we now need to bring the
snakes
that reside outside our home
inside
our home just to eat the mice? Talk about a conundrum...
Anyone else ever had this problem? What with the snakes and the mice, I'm about read to go live in my car.
Anyway.
Yesterday, when I posted this picture?
Well, it got even better.
I'm such a mean mom.
And finally, yesterday I posted this on my instagram...
Here's the story:
My cousin Lindsey and I send pics to each other all day long. This bish lives in Hawaii, so she sent this to me yesterday. As a joke, I posted it to my instagram, took a quick screen shot and sent it to her. Thought she would think it was funny that I tried to play off her hot body as my own.
My plan was the delete it right afterwards but I was in the car and every time I tried to delete it, an error message kept coming up! I promise I wasn't trying to pass myself off as something I'm not. Let's face it, she has a super hot bod.
Oh, and she's two years older than me with a nine year old.
Bi@#h is right.
This is us a few years ago when I went to visit her in
Hawaii
.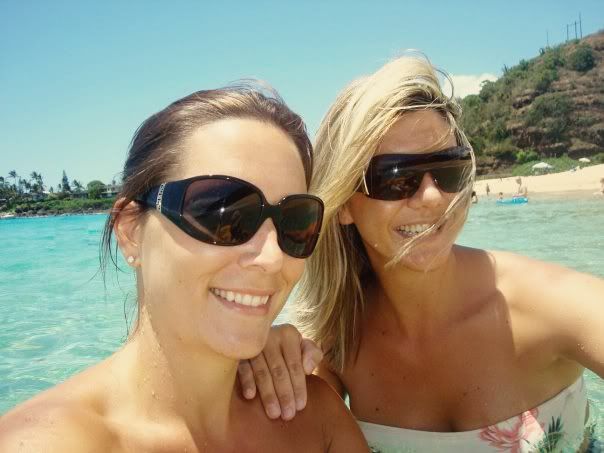 And just to prove that I'm not some whale in a bikini...
Granted, this was taken almost three years ago, and I have put on quite a few lbs since then.
I basically just posted this picture because it turns
Hannah
on.
Have a happy Saturday.
Off to the pool we go.