Dear Colt:
regarding the above award-winning photo: you were in time-out at the fire station during your older brothers field day because a) you consistently disobeyed me when I told you to stay put and b) when the fire station had a legit emergency call and the fire truck had to speed out of the building, you ran
directly in front
of said fire truck which in turn made them slam on their brakes, yell at
me
(talk about embarrassing!), and blast the horn so loud I still can't hear straight. I would have pulled out some whoopass on you but seeing as how we were at a fire station, which kitty cornered the police station, I restrained myself.
Dear Fellow Field Day Mother Who Gave Me a Dirty Look:
f#@k off. You're just jealous of my amazing boobs. And your kid eats his boogers. I saw him.
Dear Kody Brown aka Husband of the Sister Wives:
quit the BS of "love should be multiplied, not divided." This is all a front so you can bang four different women and none of your "wives" will get mad at you. You. Are. A. Genuis.
Dear Vodka:
does someone come in at night and steal a few ounces from your bottle? Because when I wake up in the morning and see how low you have gotten, I assume someone is sneaking in and helping themselves to your sweetness. Because certainly I didn't drink that much last night...
Dear Democrats:
enjoy your last few months with your hero. The Mitt's comin' in to set things straight here in a bit. Thank the Lord almighty! It's time for some
real
hope and change!
Dear Blog Snobs:
I'm coming for you. I'm calling you
out
. I even wrote a post about you. To be published next week. Scared?
Dear Participants of TLC's My Big Fat American Gypsy Wedding:
WHAT?
is going on here. My mouth is hanging. WIDE open. I mean.... I'm just ............ no words.
Dear Sister:
If I frantically call and say I need a triple shot latte rightthisveryminute, because the kids are napping, I had a very hectic day and I very badly need a pick-me-up, don't tell me "you're busy." I understand you have 8-month old twins and are pregnant with another, but next time? Come up with a better excuse.
Dear Kim Zolciak:
I'm sitting here all alone in my living room, watching your show on Bravo "Don't Be Tardy For The Wedding" and I'm bawling my eyes out. Like the ugly kind of cry. How is this possible? I couldn't stand you on Real Housewives of Atlanta and now this? Talk about a 180...
Dear Dr. Phil:
You have taught me so much. I live by your famous quotes; "you can't change what you don't acknowledge," "the best predictor of future behavior is past behavior" and my ultimate favorite, "if someone out there doesn't agree with me, then somewhere a village is missing its idiot."
And amen.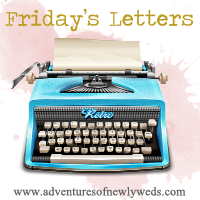 ps. I am almost done going through all your
Show & Tell vlogs
! I have had the best time watching them all. Some of you seriously make me laugh!