I got quite a few questions regarding the ol' breast aug, so I figured I'd just made one big post about it and call it a day.
How long ago did you have yours done, and why?
I got mine when I was 22. Why? Well for one, I was a double A. But I never once thought about getting a boob job growing up. It was never on my "to-do" list nor did I really give it any thought. Until one year, my cousin decided she wanted one, then my sister decided to get one also, so I began to think about it (for all of two seconds) and was all,
"hmmm, sounds like a good idea to me!"
Oh, and I totally took a loan out to get my boobs. Like, I had to put my car up for collateral. Is that idiotic or what? No worries though, when I got married and sold my condo I had money to spare so I paid them off in full.
Does it hurt BAD? What is recovery like?
This one is different for everyone. For example, my sister was able to go out to dinner the very next day, as her pain was minimal compared to mine. Granted it was only in the hotel restaurant where she was staying, but still, I couldn't move for like two whole weeks. Because yes, it hurt
bad
. I remember distinctly sitting in the big fluffy chair at my moms, trying to get semi-comfortable, falling in and out of consciousness from the pain meds, and thinking to myself,
"this pain is so bad that if I had to do it over again, I wouldn't."
I also could never imagine being able to sleep on my stomach ever again, as just the slightest touch made me want to scream in agony. I am not being dramatic here, it hurt
that
bad. But like I said, everyone is different. My sister wasn't that uncomfortable at all, and obviously, I am happy I got them and would do it all over if I had to. I think it's kinda like childbirth...you forget how bad it hurts after time goes on and all you remember is the wonderful gift(s) you were left with. ;)
Is it true you'll need to have adjustments (more surgery) every so often to keep them looking good?
From what I hear, yes. It's been almost 10 years since I got mine and things are looking pretty much how they did at the beginning so I'm not sure when I'll need to go back in.
Is it true that you have reduced sensation?
I sat here for a bit contemplating how to answer this question. Do I compare before and after stories? How detailed should I really get? Should I have my husband answer this question? No, no, that would be bad. Let's just say I personally didn't notice that much of a difference. At first, yes, but after everything settled, things seemed to go back to normal.
What are you opinions of others who get boob jobs?
I say great! I always find it funny when people make fun of women who have boobs jobs. I mean, making fun of someone who got boobs triple the size of their head, yes, but that's just asking for it. I think fake boobs are great, I think whoever wants them should get them (just try not to take out a loan for them like I did) and I think everyone else with negatives opinions can keep them to themselves. Or not, I would just suggest not directing them towards me because I really could care less. My husband loves them and that's all that really matters now isn't it sugarplum?
Also on this subject, I find it funny how some people get them and then try to "hide" it from others. Sshh don't tell. Because I'm fairly certain you didn't get a boob job to blend into obscurity.
What did your family think, esp your mom and dad?
Both could honestly care less. Neither one of them had anything negative to say nor did they try to sway me against it. My family may be very vocal and opinionated, but judgmental we are not. We aren't that stupid to think a simple cosmetic procedure defines a person or changes their core values and morals.
Can we see a before & after picture?
At first, I wasn't going to post a before & after pic (who knows what creepers are reading this) but then I figured it's only a bathing suite and I'm sure people are curious so I obliged. It wasn't the easiest task finding a "before" picture either, as I had to dig into the trenches to find one.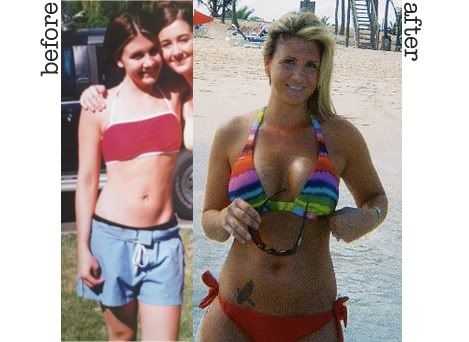 Two things concerning the above picture...
1. I so long for the days when I was skinny, sure I was boobless, but I was SKINNY. And I don't care if anyone else wants to admit it, but being thin is important to me. DAMN you age and childbearing.
2. Pretty sure the after pic had a little padding in the top.
*************************
And this concludes a whole entire post about my boobs.
SEE PART TWO
HERE
.