Sorry guys for being a lil' late here on my Thursday post. I promise to have my link-up posts done and scheduled for the AM from now on!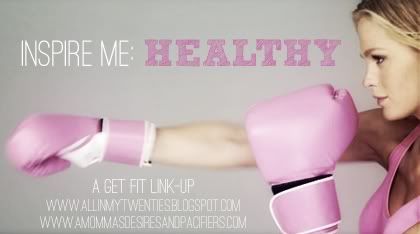 "I'm starting my diet tomorrow."
Probably one of the most common words that come out of my mouth. Tomorrow. Starting tomorrow because today? Today I'm having me some Taco Bell. And maybe pizza later. And of course, I will finish my children's leftover chicken nuggets because I can't let go to waste. No, those chicken nuggets are
much
better suited on my thighs than in the garbage can.
I've always had a "thing" with my weight. I was never overweight as a child/teenager, in fact I distinctly remember counting out exactly 60 cheerios, 5 chocolate chips and 10 raisins, putting it in a ziplock bag and that was my lunch I took to school. I also remember having my parents drop me off at the gym (I was too young to drive) and have them pick me up an hour and a half later, because I had to work off those 60 cheerios. That obsessive stage was fleeting, and I never had a full blown eating disorder (I ate normal dinners and such, as a handful of cheerios isn't that filling) but I was always conscious about wanting to be/stay thin.
side note:
I know this link-up is about being and getting healthy, and while that is very important to me, I have to be honest and tell you guys that that isn't my main motivation here. I want to be SKINNY. And I'm not afraid to say it. Size 0? Never gonna happen. Size 2? Nope, not me. Where I am the most comfortable is being able to walk into any high-end boutique and pick up a size 6 pair of jeans and know they will fit like a glove. Size 4 maybe, on a good day. But that's just me. That said, I also don't want to be what they call skinnyfat, which is why I believe in order to achieve my goal, I need to put some hard work and sweat into working out and building muscle. And that's just my honest truth.
end side note.
Fast forward some odd years and two babies later and I'm still just as conscious about wanting to be thin. However, I've fallen off the wagon lately, or better, the treadmill. When I got married, I was the thinnest I'd been in a while, but come on, who
doesn't
diet a little extra for their wedding.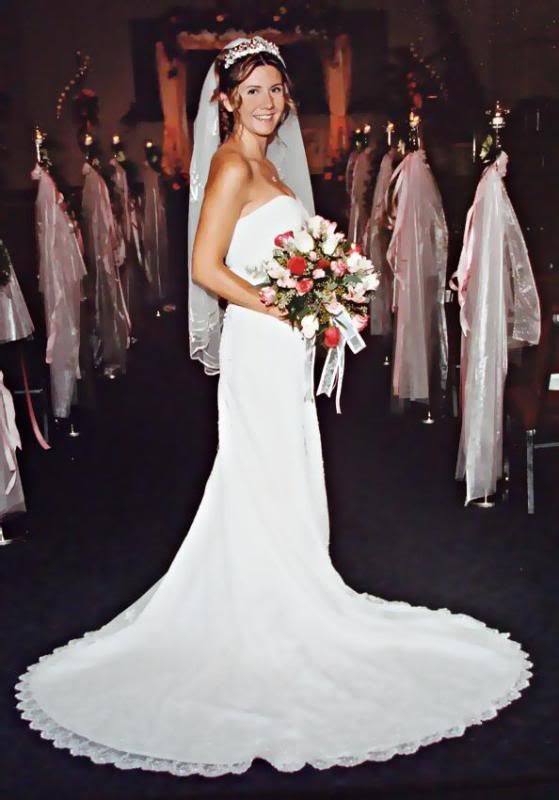 Please excuse the godawfulness that is my hair. The ringlets....shudder
While being married and before kids, I stayed pretty consistant with working out and eating good. Then I got pregnant in the summer of 2007 and believe it or not, I stayed pretty dedicated to working out. I was on the treadmill at least five days a week and lunges was my middle name.
Sorry for the semi-pornographic photos, but they are the only ones I could find on my computer. Also, sorry for the side boob. I mean you're welcome.
About eight months after little babe popped out, I was in the best shape of my life. I was working out regularly. I was also a vegetarian for a short span. Which I plan on hopefully going back to. But that is another post for next week.
photo on the left is after baby #2, photo on right after baby #1
10 months post baby
again, I apologize for the mirror shot. I pulled these straight from my myspace page. Remember myspace?
Then I got knocked up again two years later, and still kept with it. Treadmill every morning while watching Kathie Lee and Hoda. Man I miss those bitches...
6 weeks pregnant here. Second baby so they say you show faster? I'm just gonna go with that.
four months preg
And then? Well then is kinda when I let the ball drop. I stopped working out, starting gaining. The pictures below were taken on a trip to the
Dominican Republic
over a year ago. I know I don't look horrible, but I had definitely gained a good 20 pounds and besides when I was pregnant, it was the heaviest I had ever been in my life.
And as the story goes, I still have yet to brush the dust off my treadmill. And I really have no excuse either, seeing as how I have everything I need set up in my own home. I have to walk past the treadmill and weight machine every morning when I wake up...around 9 am. 9 am?! Who sleeps til 9 am?? Unless you are a an infant or a teenager on summer break, I suspect most people get up earlier and start getting shit done.
I need to start getting shit done.
I know I said I would post before pics here, but as you can see with the lateness of this post, I didn't get around to it. So I'm showing you a
real
picture of me from this past weekend. When I was going through all the pictures that I took, I cropped a lot of them to right under my boobs, so you wouldn't see the tummy rolls. I "edited" them a little to make me appear in a better light. I only showed you guys the ones I wanted you to see.
The one below is one I did
not
want ya'll to see...
Ready?
Ok so maybe that one is a little exaggerated. I'm just hoping after you see that, I won't look *so* bad in the real one...
and there she is folks. All bleeeeep pounds of her. And this one isn't even the fairest of them all, as my arm is strategically placed over the midsection.
I know I'm not obese and like Kristen said, I'm not fishing for "you aren't fat, you don't need to lose weight" comments because it's really all about how WE feel INSIDE, don't you think?
Next week I will be going into more detail of how I plan to lose the weight (gone are the nightly cocktails...waaahhhh) and hopefully I can report that I got my ass up around the 7 o'clock hour to put some miles on my trusty ol' friend the treadmill.
I also will be posting before and afters in a bathing suite and I might say
out loud
just exactly what that darn scale says about me.
I'm excited to go on this venture with you all and I hope you help keep me accountable! Now go link up on
Kristen's page
so I can do the same with you!
ps. Please don't think I put all those thinner pictures of me on here to be vain. I promise I didn't. This is going to be my motivation post for me to look at and get inspired!