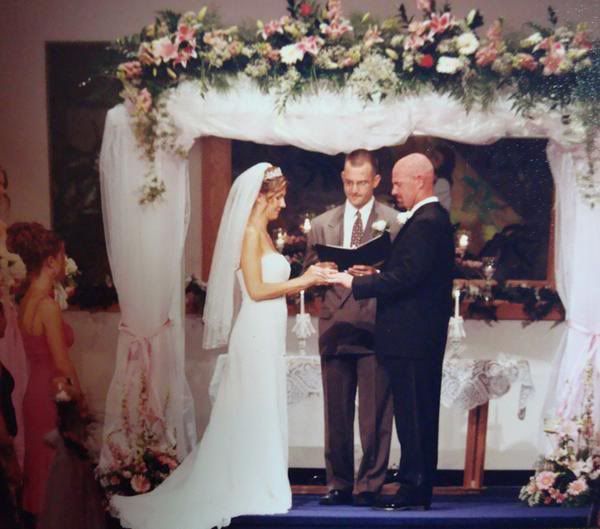 On this day, exactly eight years ago, I walked down that rose petal covered aisle and into the arms of the most admirable, kindest man I have ever known. He gently took my hand in his, we said some of the sweetest words ever spoken and then we exchanged two pieces of metal that represented our undying devotion to each other. Yes, 'tis true friends, on this day I married my best friend.
Wait. That's not entirely how it happened.
It went a little something more like this...
On this day, exactly eight loooooooooong years ago, I walked down that crushed rose petal covered aisle in a size 4 wedding gown. I was a skinny bish and my newly purchased boobs looked on point in that bustier. As I neared my soon-to-be husband, I noticed a little glimmer in his eye. Immediately, I knew it was because he was a tad bit buzzed from all the whiskey him and his buddies had been drinking only ten minutes prior. I would have been more pissed that he decided to indulge in the sauce on such an important day, but the onslaught of mimosas I had just consumed made me not give a shit.
The ceremony went off without a hitch. We said our "I do's," for better or worse, sickness and in health, only if you're rich, blah blah blah, and then it was time for the reception.
You know, the important part. Where there is an open bar and kegs galore.
I promised myself I wouldn't get drunk on my wedding day. I said that only losers do that. I still stand by the fact that it would have been totally rude to turn down the overabundance of tequila shots I got handed that day.
Not my fault.
I'm also pretty sure I dirty danced with my sisters husband, but that's only what I've been told.
Thank God I got married in the stone age before people secretly recorded others on their smartphones.
Anyway, if memory serves me correctly, we topped off the night with dinnerslashbreakfast at Denny's.
We are a classy couple, in case you missed it.
And so I leave you with one of my favorite quotes about marriage, and no, it doesn't come straight from that God awful sickening movie they call The Notebook. No, it comes from one of the best love stories ever told...yes, I'm talking about Wedding Crashers.
"I'm not perfect, but who are we kidding, neither are you."
Bam.
And that, my friends, is the secret to a successful marriage.
ps. if you want to check out where it all began, you can read our love story

here

.