On the evening before we were to pull into St. Thomas, our captain came on the loud speaker and told us there was a fairly good chance that we would not be able to make it into port. That the weather was potentially too dangerous to navigate into St. Thomas, which in turn would mean we would spend the day at sea, ultimately missing our island experience. Fortunately, the good Lord above heard my prayers and the skies cooperated, dropping us off at 9 am at the gorgeous caribbean island.

We hadn't planned on taking a guided tour during any of our stops, but we somehow got caught up in a sightseeing expedition. Some yelling and cursing may have been involved, but that is besides the point. We ended up on an open air bus with fifteen other strangers, stopping off at random points of interest on the island. Hey, at least there was free local rum.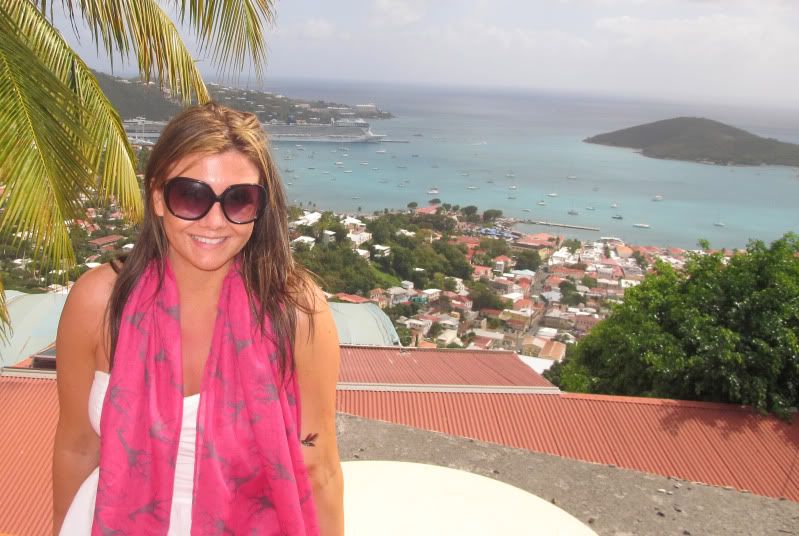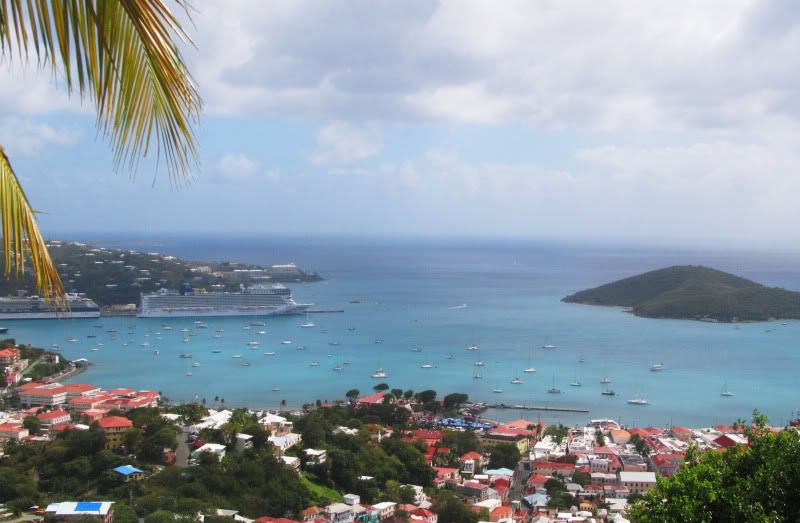 I asked for that giant bottle of rum to go. It exceeded the weight limit at the airport.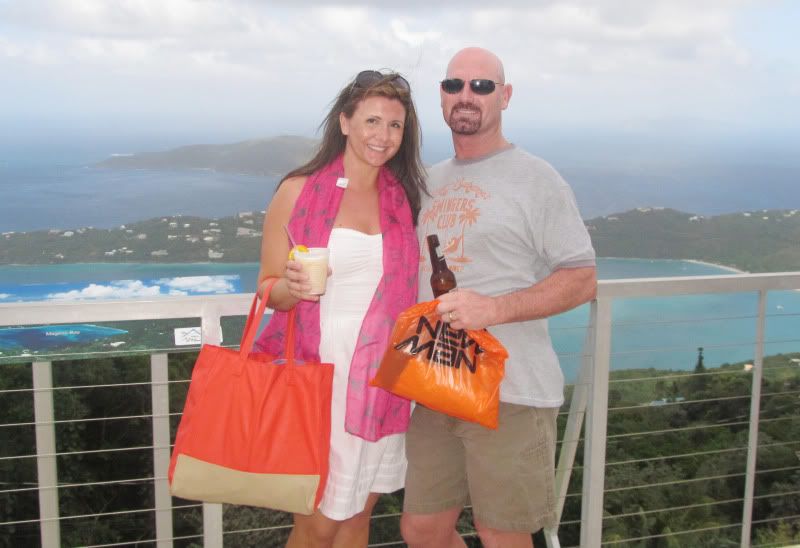 After our guided tour thingumajig, we had our driver take us to a private beach where we could swim and snorkel. We ended up at a fabulous bank with tiny grains of soft sand and teal blue waters. It really was like all the pictures you see in a magazine.
Only better.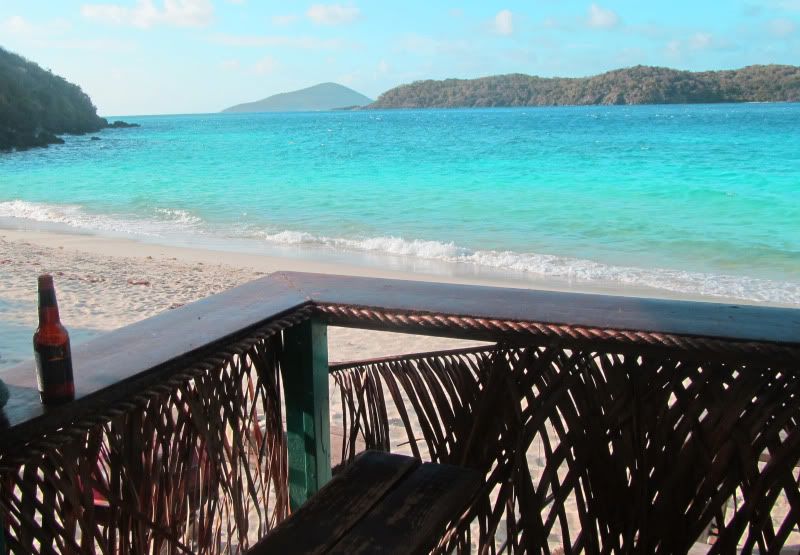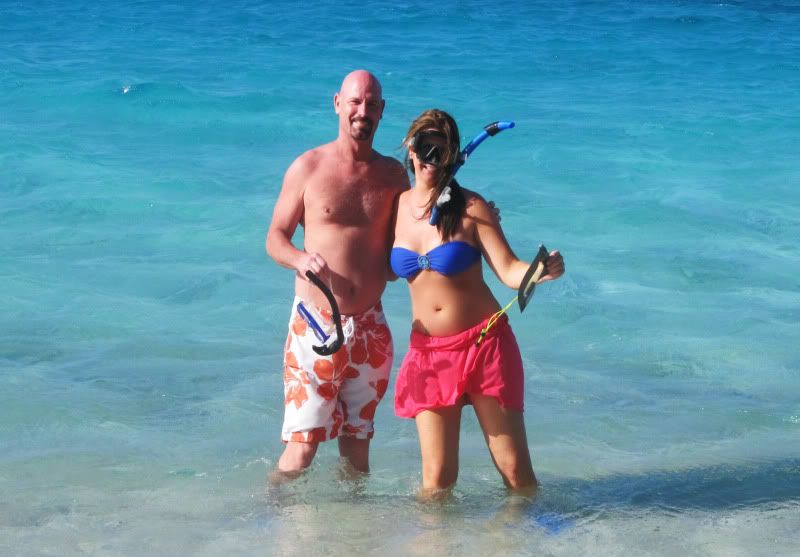 (and yes, I photoshopped my stomach. Do democrats lie pigs fly?)
I had an underwater case for my camera, but unfortunately, there wasn't much to see.
I asked the husband to take a picture of me underwater, for keepsakes.
This was the result...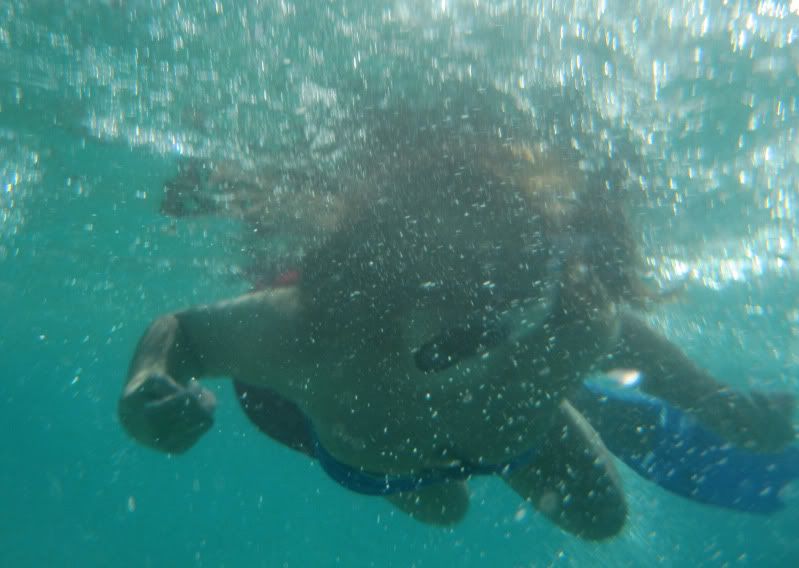 He didn't even try.
Men.
After swimming in the ocean all afternoon, we worked up quite an appetite. This little shack had the best food south of the United States of America.
You know what else they had? A little blue bag full of some unknown substance. A guy working at the shack motioned for my husband to come over, and once he did, he tried to slip him a blue baggie into his palm. When the hubs asked what it was, the guy answered
"cocaine, or anything else you want."
Then my husband had the gall to respond with
"sorry dude, but I don't do drugs."
Excuse? Speak for yourself dear husband. What, could you not do
one
nice thing for me during this trip?
No worries though, because I'm pretty sure shack man snuck some magic into our pina coladas.
God this place is great.
And don't you forget it.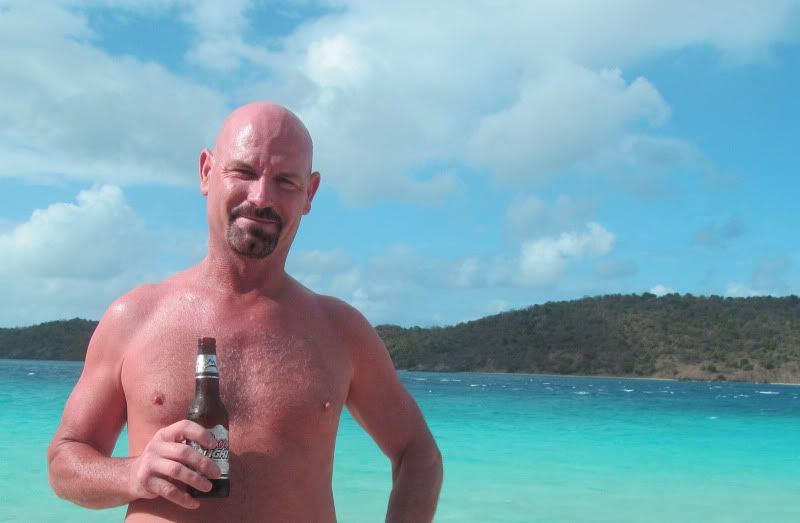 When I snapped this picture of hubs on the beach...
I had a deja vu moment. Haven't I seen this scene before? Oh yes, I took the exact same picture almost one year ago...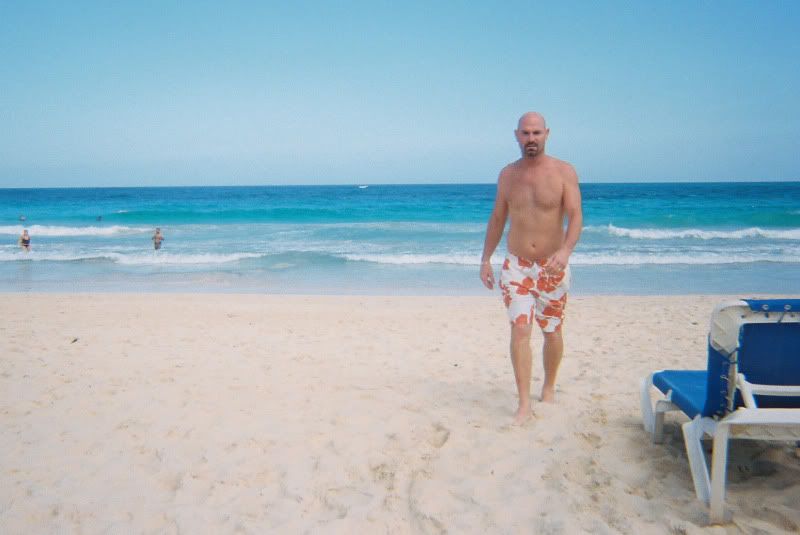 (photo taken in the

Dominican Republic

. Hubs, time for some new swim trunks.)
St. Thomas was amazing, but it was nothing compared to my favorite stop, St. Maarten. (Besides the "extracurricular activities").
I loved St. Maarten. It was gorgeous. Simple. Serene.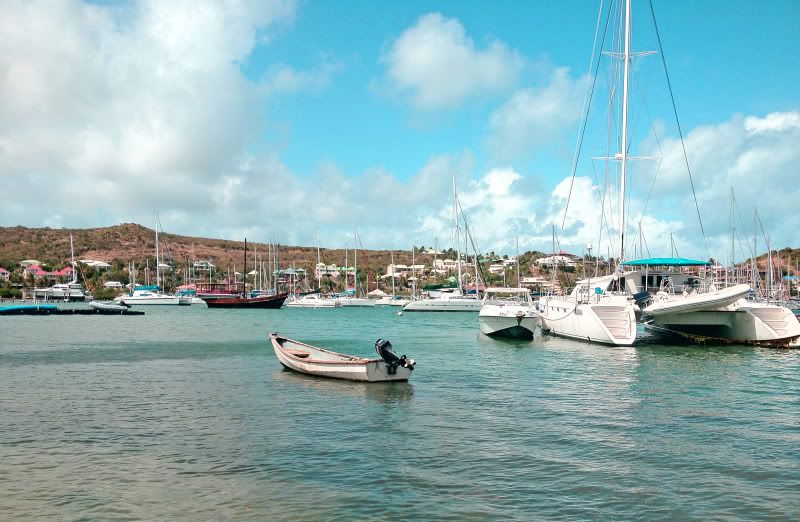 I'll take the boat on the right, thank you.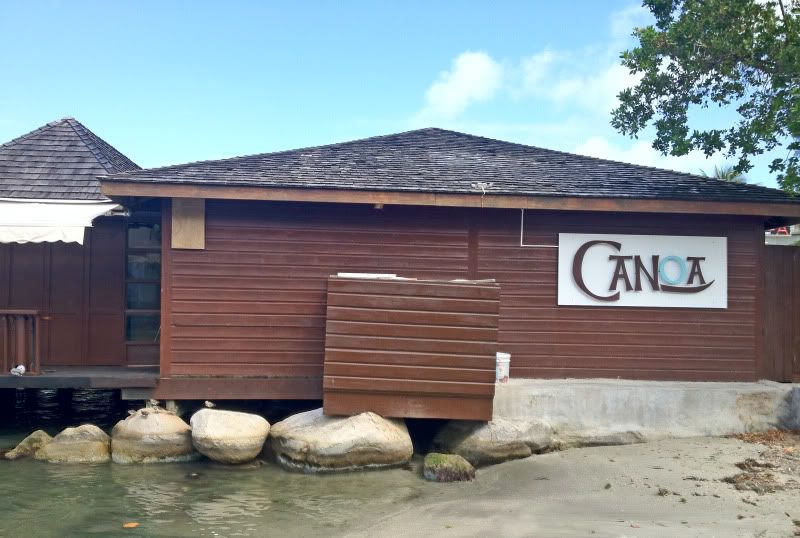 We hopped in a cab and asked to be taken to a phenomenal secluded beach where we could just relax and take in the sweet ocean air. We got our wish.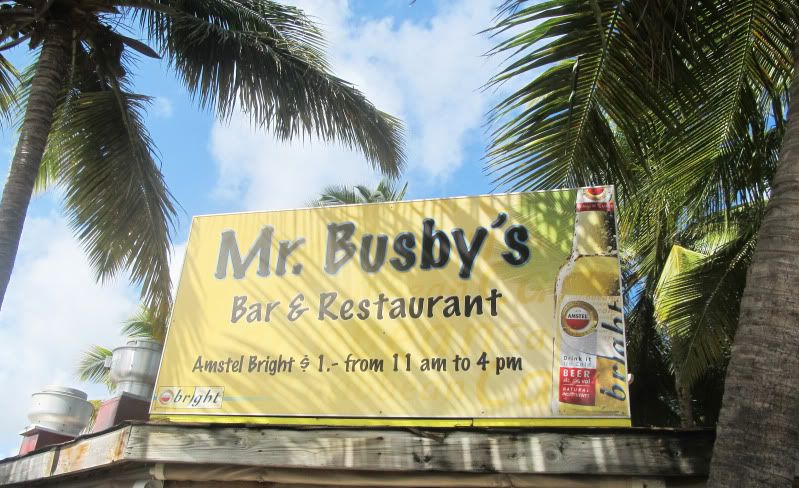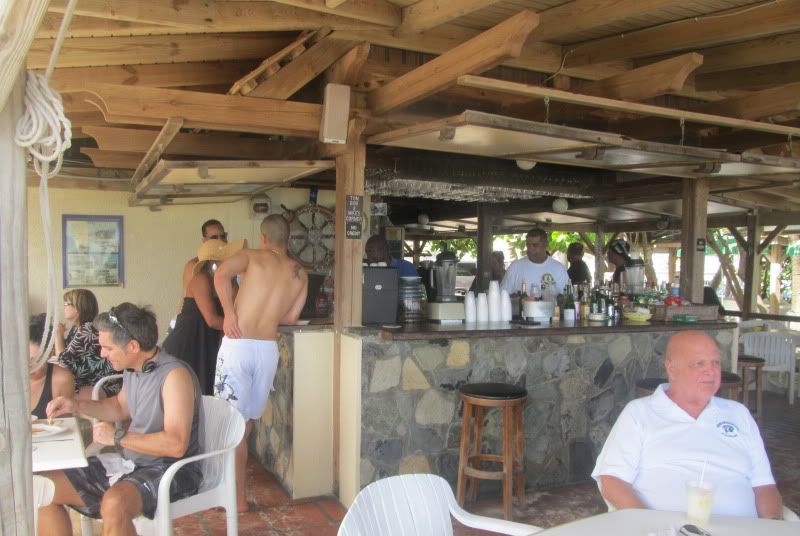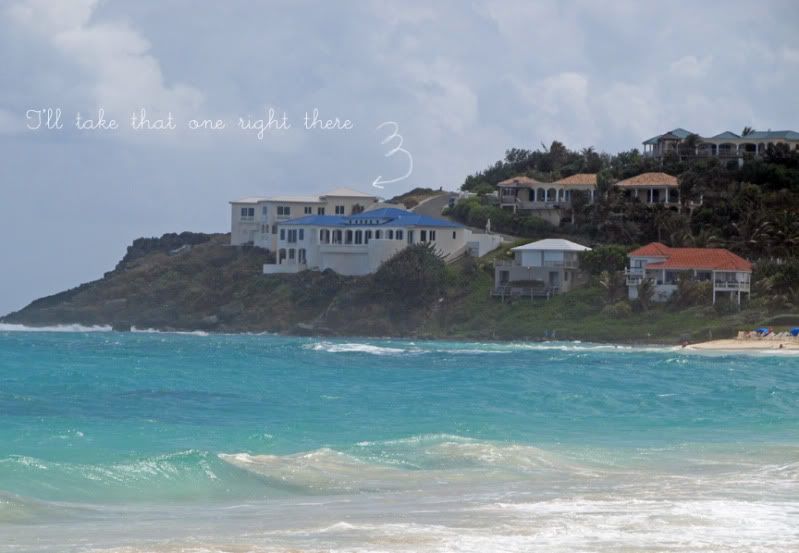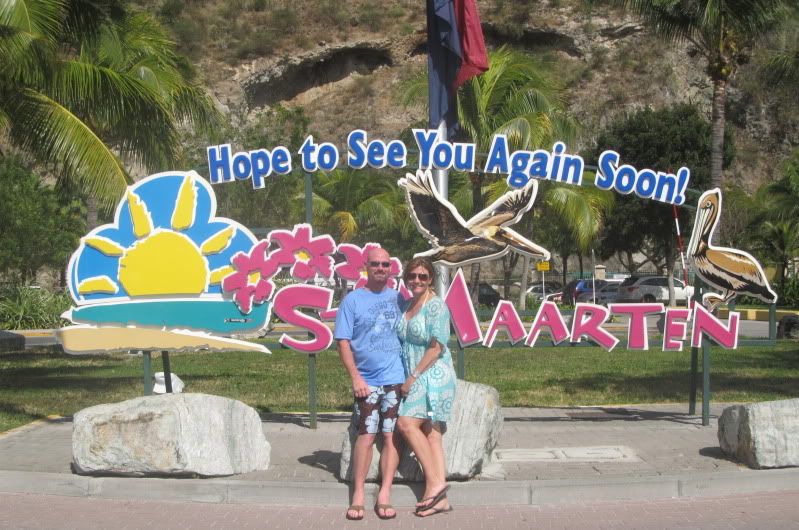 oh don't worry St. Maarten, you will. You will.
Another highlight? Stopping in at a jewelry store on the way back to the ship and trying on a $150,000 flawless diamond ring. Needless to say, hubs didn't buy it for me.
Asshole.
Tomorrow: Caribbean Cruise Vacation Encore.