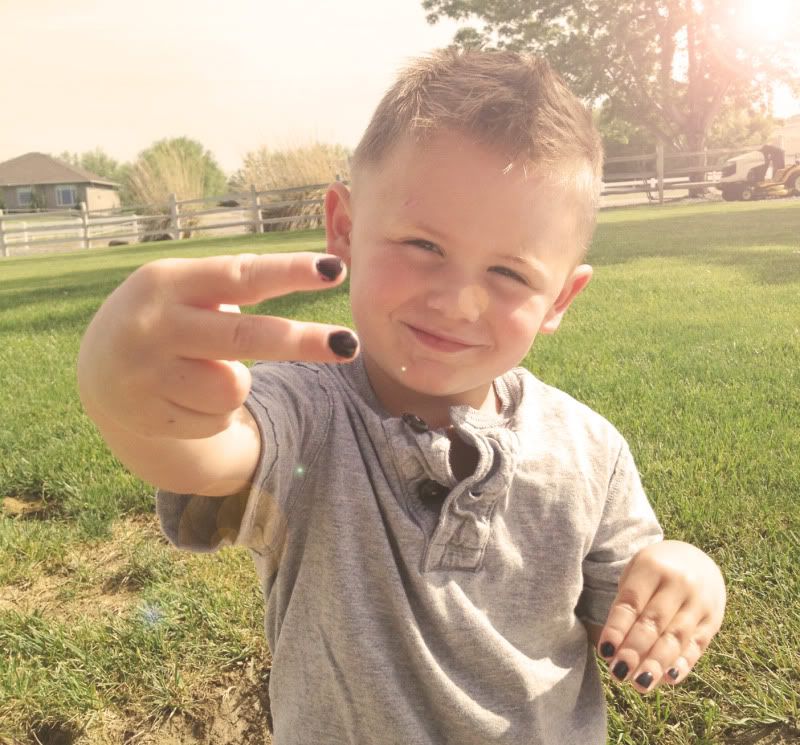 I think we all know where I stand on the political side. I don't try to hide the fact that I'm a conservative Republican, that I think hard work should be rewarded and that those who stand in the way of that should be, well, poof!
But this isn't about politics. This is about parenting.
Gunner loves me to paint his nails. He doesn't care what color, he just sees me doing it and wants the same. Fortunately, I have convinced him that black is "badass" so it's his first choice. I don't care one bit that he wants his nails painted. I don't see it as feminine, I see it as, well, badass.
The other day I was at the pool, and Gunz was talking to a lady and she noticed his nails. We are semi-acquantances, and as she oohed and ahhed over the black (she liked it) she turned to me and said all innocent like, "I never knew you were so liberal."
Sca-reeeeeeeeeeeeeeeech!
Say what? Oh no no. You are mistaken. Me? Liberal? I drive a gas guzzling SUV (safety reasons, don't try to argue with me), I have a NObama bumper sticker in plain sight and oh yeah, I have a boob job.
Liberals don't get boob jobs.
Some bs about "being happy with who you are."
psssshhhhhhh.
There was nothing happy about my double a's.
Anyway.
I guess when people see a little boy with black nails and a fauxhawk, they just assume the mom is some tree-hugging gypsy with a kumbaya swagger. And double a's.
(Side note: please understand. I am not judging tree-huggers. To each their own. I just am not one. I also am not judging little teats.
#biggerisbetter
End side note.)
But even though I believe boys should be boys, that they should get down and dirty and jump out of tree houses, and as much as I hope and pray that they grow up to be republicans, I realized that in some ways, I am kinda...liberal...ish.
Exhibit A: black nails on boys. Apparently that's "out there" a bit.
Exhibit B: My boys are almost always naked. No clothes, no problem is my mantra. I take them to the store barefoot. I can't wait for my youngest' hair to grow long again so I can put it in a ponytail. If they pick out a pink sippy cup instead of the superman one? Who cares. I don't have those stereotype ideas in my head.
Exhibit C: I believe in letting kids imaginations run wild. Giving them the space and freedom to choose what they want to do. Just sitting back and watching them evolve, grow, learn. Trial and error, I'm a big believer in. Letting them make mistakes so they can choose better next time.
And then there's the flip side.
Exhibit A: I am a super strict parent. My kids
will
obey me, they
will
obey authority and they
will
suffer the consequences if they don't do so. They don't get a vote, I am the boss. I will not raise a spoiled brat. My kids will know the value of a dollar, they will know that in order to get something, they must work hard for it. There are no hand-outs over here at the Smith household.
Exhibit B: When it comes to kids' sports, I don't believe that "everything should be fair." That everyone should get a fair amount of play time. I believe that the best should play the most because guess what,
it is about winning
. I don't think that second or god forbid third place should get a trophy. Second place is the first loser in my book. If they want to play bad enough, hopefully this gives them the incentive to practice their ass off and work harder.
Exhibit B-a: With that same mentality, my kids will always know what it means to be a graceful loser. You throw a fit because you lost? Bad move buddy, bad move.
Exhibit C: Grow a pair. Be a man. Take care of your woman. Be the provider, protector and knight in shining armor. (Alas, we are talking years into the future here.)
So what am I? Liberal parent? Conservative?
I guess it just comes down to doing what you feel is right for your kids.
And for me, black nails and fauxhawks that eventually turn into mohawks is where it's at.
Peace.