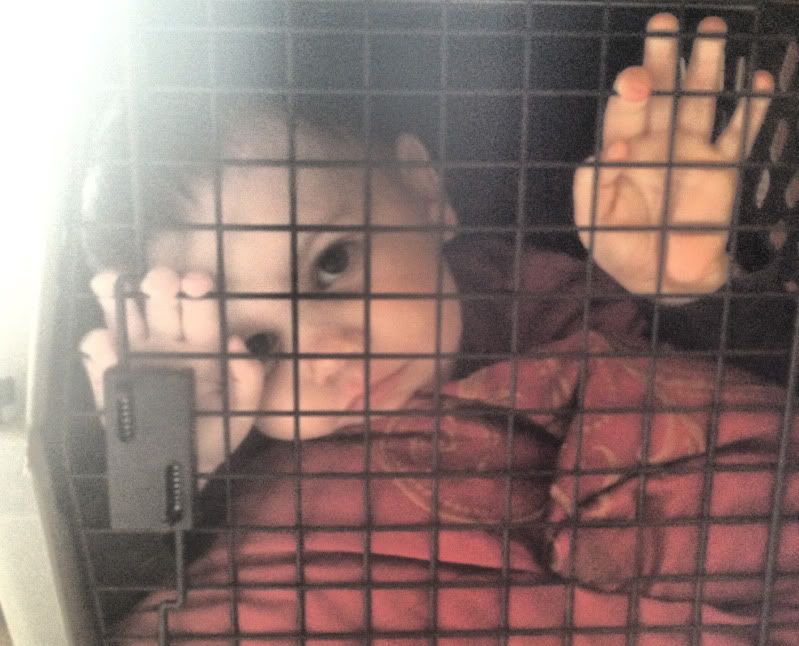 what? he wanted to be in there...
It's no secret that we live in the boons. So when those people go door-to-door selling God knows what, I often try to act like I'm not home. Especially if the hubs is out. Unfortunately, on this certain day, I was eagerly waiting for something from UPS, so when the doorbell rang, I sprung it open and there he was, Edgar, in all his shining glory, holding a vacuum cleaner, wanting to "clean a stain in my home for free. No obligation to buy anything, no pressure, no nothing."
I know better. I knew that if I let him clean my carpet, it would be all, "see how well that stain came out? This is the most magical formula in the world, it's like, top secret. It usually sells for $250 but I am going to give it to you for the bargain basement price of $49.99!"
Ok, so will that be check or credit card?
Well, I guess I can make an exception this time and accept cash.
No? NO?! Why not? Why you gotta be so rude? I see two nice cars out in the driveway, you're saying you can't even afford $49.99 to help out the less fortunate?
I swear to you, that above statement? Totally happened to me in real life. Dimwit actually tried to guilt me into buying his crap by pointing out that I had a nice car sitting in front of my house. And then he called me rude! A salesman at his finest.
Anyway. Back to my story. Edgar did indeed want to clean my carpet (hey now) but since I am older and wiser, I wasn't letting him inside my house. But here's something about myself that you may not know. I tend to be a people-pleaser (gasp! shock! I know...) and instead of telling Edgar to just flip off and go get a real job, I nicely said "actually, now isn't a good time. My husband is gone (crap Raven! Crap! Why would you say that?!) and the kids are in the bath (really?!) so I'm kind of busy."
But you know Edgar. He wasn't giving up that easy. And so it began...
"Are you sure? It won't take me long, just a few minutes, and then you'll have clean carpets! Ok, so if now isn't a good time, can I come back later today? What time works for you? You just let me know, I can come back whenever."
And since I'm so brilliant (and a people-pleaser, remember?) I said, "fine. How about 4 pm?"
Four? If you say 4, I'll be back here then. You sure you're gonna be here and you aren't just telling me this to get me to go away, and then when I show back up no one will be home?"
You're a f#@cking genius.
"Nope! I'll be here at 4. Swear."
You all know I planned to be long gone by then. Would have worked out perfect, right?
That darn Edgar. He came back at 3:30 pm sharp. Right as I was starting to get the kids together to walk out the front door. Gunner looks out our floor-to-ceiling front window, spots him and says, "hey! Who is that man out there?"
And right then and there, it happened.
Time where I had to choose: sink or swim.
I knew he had seen us through the window, but I didn't care. I grabbed both kids by their shirts, ran into the master closet, turned off the lights and said in my most scary mom voice ever, "we have to be very, very quiet. There is a very bad man outside and we need to stay here and not move until he goes away."
Of course, inquiring minds want to know, so little Gunner asks, "why is he here at our house? What does he want, momma?"
"He wants to vacuum our carpets. But daddy isn't here so we can't let him in, because something bad could happen to us if we do. He might hurt us real bad."
And we sat there, in that closet, while Edgar rang the doorbell, over and over, yelling, "Hello! I saw you in the window! Why you gotta do this to me? I had to drive a long ways to get out here! Are you kidding me right now?"
All the while, I'm constantly reminding my boys, "don't say a word! Don't make a peep! I'm serious. You know those monsters you are scared of in your closet at night? This is way worse."
Thank the good Lord above that the door was locked, because I honestly was thinking he might just walk inside and force himself on my carpet, demand that I let him get out a stain and never leave until I paid him for the magical formula.
Sidenote: That whole entire above sentence could totally be taken the wrong way.
Finally, after about five minutes, Edgar gave up and went away. I slowly peaked out the window just to make sure, and sure enough, I saw his van pulling out of the driveway.
I would love to say that this was the end of the story, and all was well from then on.
But I said this was another example of how I screw up my kids.
How, exactly, did I manage that?
Well, for weeks after this incident, Gunner would wake up in the middle of the night, crying, because he "had a nightmare that the bad man with the vacuum was coming to get him."
Eff. I totally sunk that one.