Hey bishes! I'm here today guest posting because let's face it, this blog could use a little spicing up. While my mom is still crying into her wine glass over my little brothers haircut (it was months ago! get a life!) I'm gonna share with you a few nuggets of four year old wisdom.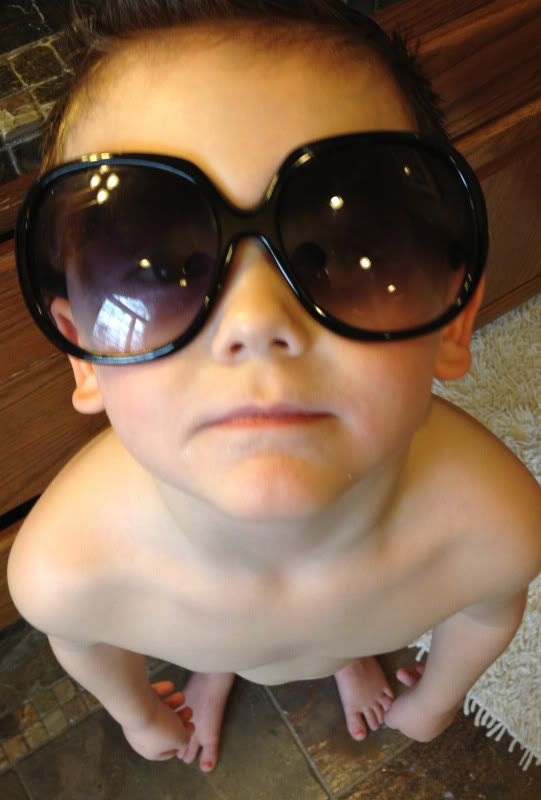 yeah, I have pink toes. Gotta problem with it?
But first, let me introduce myself. My name is Gunner James Smith, but you can just call me The Big Gunz. My favorite food is chocolate pudding and if you try to get your hands in my snack pack, well, let's just say it didn't work out well for the last guy who tried.

That last guy being my brother.

He's now missing a finger, but shhhh....don't tell my mom.

Not like she would notice anyway. She's too busy "working" aka blogging and photoshopping herself so you all think she's some hot stuff or something.

Trust me sweeties, she does not look like that.

Talk about an optical illusion.

And she teaches me not to lie. Hypocrite.

You know how my mom always says we love to be naked? Well, that's true. But do I need her splashing those pictures all over the interwebs for all to see? No, no I do not. I'm eventually going to get a serious girlfriend (like in a year or two) and I don't need her googling me and seeing photo after photo of my nekked booty. So inappropriate, mom.

You know what else is inappropriate? My mom's bizarre obsession with Britney Spears. Really? How old are we again? Isn't she a little...immature for a grown woman with two kids to idolize? Grow up mom. You should listen to someone more age appropriate... like Barbara Streisand or Bette Midler.

I really wish I could watch Spongebob Squarepants, but my mom says it's the work of the devil. Oh yeah? I think you trying to shove that j.lo of yours into jeans two sizes too small is the work of the devil. I may be young, but I know what "muffin top" is and it ain't cute.

Speaking of muffins, did I mention that chocolate is my favorite food? My mom always tells me that "it's unhealthy to eat chocolate all day long" and that I can only have it "in moderation." So that's how it is? You really wanna go there? Because I also believe that drinking vodka "all day long" is unhealthy. BAM!

I think I'm gonna grow up and marry a liberal just to piss her off.
Peace out sugartits