"I'm sorry that people are so jealous of me...but I can't help it that I'm so popular."
quote from the movie Mean Girls
A definition of "snob" I found recently was this:
a person who believes himself or herself an expert or connoisseur in a given field and is condescending toward or disdainful of those who hold other opinions or have different tastes regarding this field.
The "field" we are talking about today is that of blogging. As I'm sure many of you know, blogging can be a wonderful thing. You can find other bloggers with similar interests as your own, you can get feedback, you can laugh, connect, be entertained, and if you're an emotional type of person, you may actually find yourself crying over at someones neck of the virtual woods. You can see a blog friend turn into a real life friend (
ahem
) and you can feel like you are a "part" of something. It's true when they say that blogging is a community, a comradeship, a stomping ground for us all who have something to say.
But just like every other group of girls that get together, there are bound to be cliques, the cool crowd, the mean girls...
or in this arena
The Blog Snobs.
dun dun dun
In my never to be humble opinion, there are a few things that qualify someone as a blog snob. In no particular order...
BE SUPERIOR.
And make sure everyone else knows it. I followed a certain blogger on twitter one time (names withheld for shame purposes) and this person tweeted something to the effect of
"why do certain bloggers have to be so pretentious"
to which I kiddingly replied
"well that isn't a very nice way to describe me."
(If you even semi know me? I am a heap of sarcasm. I kid all the time.) Her response?
"I wasn't talking about you, nor do I have any idea who you are or what your blog is even about."
Talk about not being able to take a joke. And for the record? That snotty blogger? At the time, she had hundreds more followers than me, so I assumed she thought I was a nobody. I just checked a few days ago and I currently have 500+ more followers than her...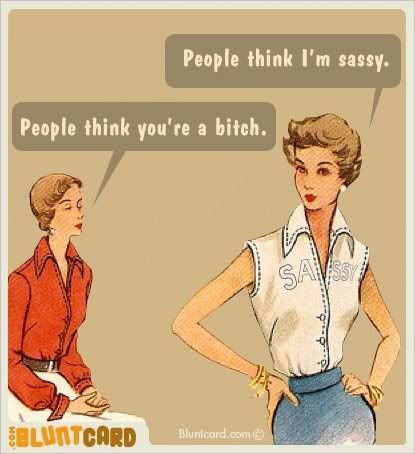 THE FOLLOWING GAME. Allllllll the bloggers say it: "Blogging isn't about the number of followers." I'm just gonna call bullshit on this one. Every single blogger wakes up and logs onto their page, hoping to see their follower count go up. I honestly cringe every time I read a post about how "followers are not important whatsoever, it's all about the writing." I cringe for two reasons: a) they are lying sacks of sh#t and b) yes, it is all about the writing, but how come we can't just come right out and say that if you suck as a writer, your follower count won't go up, but if you have a gift and can make people laugh/cry/connect/feel something...than you will be successful and see the fruits of your labor? Not everyone can be a pro-athlete, just like not everyone can be a pro-blogger.
THE FOLLOWING GAME PART II.
No one starts out with one thousand followers. Every single blogger starts out with the humble number of
one. single. follower
. I did, she did, and that person who has twelve thousand followers did too. I can't tell you how many times when I was just starting out, I commented some blogger who had a million and one followers. I commented and commented and commented. Not only because I liked what I was reading, but because I hoped that yes, one day this blogger might take notice and come by my space on the interwebs and maybe comment my blog too. Most of the time? They never took notice 'til my follower count went up. As if I wasn't good enough, as if I didn't start out
exactly where they did
...needless to say, I no longer comment them.
LET'S TALK ABOUT SPONSORS, SHALL WE? First things first, I have no problem whatsoever with making money off your blog. But more times than once, I have come across a few uber-successful bloggers who say that their sponsors come first, and then their readers. Excuse me? If it wasn't for your thousands of readers, you wouldn't have those high paying sponsors. How about giving credit where credit is due...respond to your readers, engage with them, comment them back...talk about forgetting the little people...and while we're at it, no one likes to read "sponsored" posts every other day. Go back to your roots, stick with what made you successful in the first place.
A LINK-UP ANYONE? HOW ABOUT A GUEST POST? Like I stated earlier, everyone started out small. But it seems that when a blogger gets successful, they suddenly think their blog is sacred...and that maybe they don't want to "congest it" with a link-up button. Think about it: most big bloggers don't participate in link-ups. But when they host one themselves? You better believe they expect everyone and their mother to link-up with them. Why is this? I can only assume that they think their shit don't stink, and that they are "too good" to link-up with someone hundreds of followers beneath them.
About that guest post? Don't even think about asking someone who has a ton more followers than you. They will think you are either "using" them or "trying to get their readers for yourself." Don't you know that they are way better than you??
YOU CAN'T SIT WITH US.
And then there is the cool girl blog circle where they won't let anyone new in. You know 'em when you see 'em...every time one of them has guest bloggers, they always have each other. I can't tell you how many times I have been passed over for a guest post because I didn't have near the amount of followers as the blog host. And now that I am creeping up in the follower arena, slowly but surely? Those "bloggers" are reaching out to me and asking me if I would like to guest post. I politely turn them down.
I'M SO UGLY/FAT/STUPID PLEASE REAFFIRM ME.
You know the ones, the blog posts that are so beyond self-deprecating that they are just begging for positive comments. Please tell them how gorgeous/skinny/smart they are and they will love you forever, and if your comment is super good, they may even link to you in the future!
Basically, if you are a decent person, an honest blogger and someone who just has a passion for writing, you may well be on your way to succeeding.
And if not?
You may very well be........
A BLOG SNOB.
dun dun dun