So after Gunner
guest posted
last week, and after all the positive comments he received, he has been walking around the house with his chest out and nose upturned, kinda like he owns the place. Of course, he has been incessantly bragging to his brother about how "all mommys friends like him best" and how "better" he is now that he has a book deal in the works.
So Colt came to me and demanded to write a guest post of his own.
Apparently, second children have something to say also...
******************************************************
Hi. My name is Colt.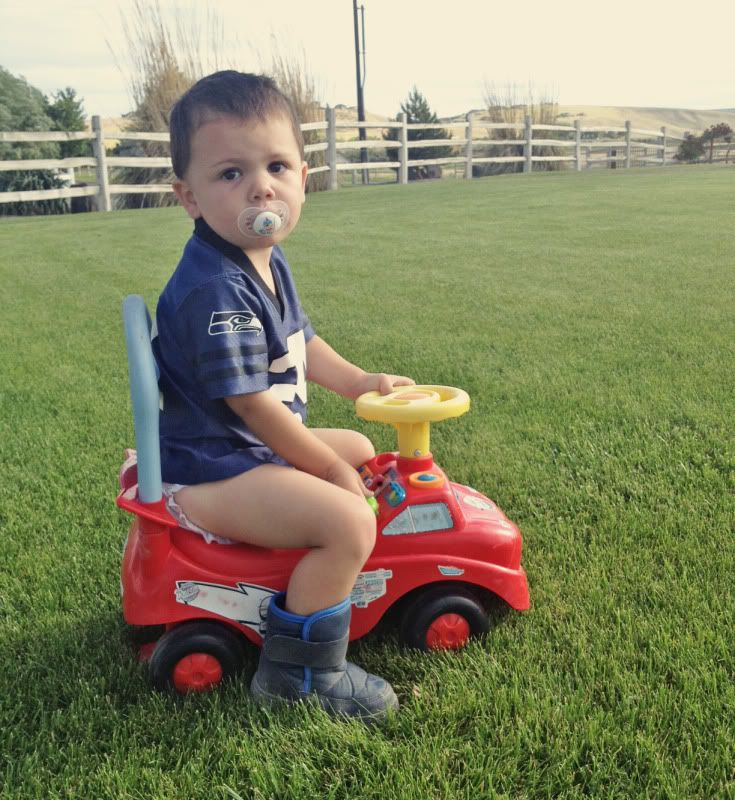 As you can see, I have no pants on, and I'm soooooo cold right now. Someone call CPS!
You may recognize my little legs in the above picture, seeing as how mommy
tweets
and
instagrams
a billion pictures of me without clothes on. She says I like being naked. Let me ask: do
you
like being naked? Outside? In the cold? It's not the best feeling in the world. I can't talk much yet, but if I could, I would say
"the hell, woman? Put some damn pants on me!"
I mean, really. Too much to ask?
It probably is. Considering the social status I currently hold in the house. Talk about being second rate. It's always "Gunner this" and Gunner that," and then when or if she does remember that she birthed a second child, I might get a few leftover scraps of macaroni and cheese.
I loooooooooooove macaroni and cheese.
Back to my brother.
Why does the oldest have to act like that? Like he's all high and mighty, and that his shit don't stink. I've smelt it, and trust me, it
stanks
. It doesn't matter what toy I had first, if he wants it, he's gonna get it. It has to be
alllllllll
about him or he will make my life hell. His way or the highway. Selfish, that's what firstborns are.
I think that mommy is a firstborn.
Explains a lot.
Oh, and by the way mom? I hated my long
curls
. I'm
glad
granny cut it off when you and daddy went on
vacation
. I know you have plans to grow it long again, but make no mistake...as soon as I learn how to use the scissors? Your precious curls are going down.
Boo
-yah.
Oh, and one more thing? When you hear me in the monitor at 6 am? I'm ready to get up. I know you like to brag to all your girlfriends how "both your kids like to sleep 'til 9," but I only sleep 'til 9 because I get bored after 2 hours of doing nothing in my crib, so I drift back to sleep.
You just wait 'til I can crawl out of my crib.
I'll wake you up by smacking you with the pancake paddle.
Get up sugart*ts and make me some breakfast!
Like daddy says...maybe instead of drinking half a fifth and staying up late watching "I Didn't Know I Was Pregnant," you could get up with my early cries and sweat it out on that dust machine aka the Treadmill.
That ass ain't gonna work itself out...
................................
It's late.
I gots to go to bed.
My mom is MIA so can one of you sweet sugar britches adopt me?
Please?
I'll reward you with long walks in the park and a few sips of my juice box.
Not to be mistaken with my macaroni and cheese.
Don't touch that.
Or I'll go all firstborn on your ass.