Rewind to last Thursday. We are still at the
cabin
in the snow on our ski vacation.
Wake up, stretch, yawn, pour some coffee with baileys (what? it's vacation) and sit down to check out the weather at the mountain. Looks good. Sunny. Lots of fresh snow.
Oh look! Sled dog rides! Gunner would totally enjoy that.
"Hey Gunner! Want to go on a sled dog ride this afternoon?"
Loud gasp
.
"A sled dog ride? Yay!"
I figure in my small little mind that this would be something he would remember forever. I mean, who hasn't dreamt of taking a sled dog ride? Isn't it like, a rite of passage to be on the 30 under 30 list? Or in my case, the mother$*#&ing 40 under 40 list? (Becoming an old hag is so not all it's cracked up to be.)
Anyway.
Off we go. Driving higher and higher up the mountain in my trusty SUV, just me and him, mother/son bonding time. I made sure to bring extra batteries for my camera, because I was certain this was going to be something I would want to document and look back on with fond memories.
Fond memories.
Only if the definition of fond is the worst most hellacious abominable terrible most offensive time you have ever had. But I'm getting a little ahead of myself here.
We spot the sled dogs and pull up. So many of them. They seem happy enough to see us.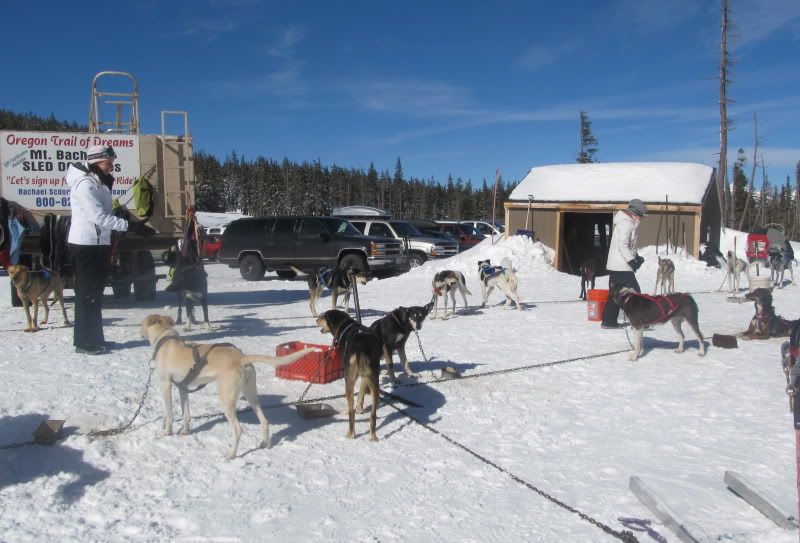 We stand there, Gunner and I, next to our sled, waiting for the dogs to be hooked up. There are ten total, and from the sounds of it, every dog seems to want to be the one to trudge us through the snow. Everything is just about done, ready for us to begin our adventure, when the two dogs closest to Gunner and I start fighting.
And by fighting, I don't mean dancing a little violent jig. These two dogs were full on ravaging each other. The jaws of death being wrapped around the others neck, matted blood spatters and horrid screeching squeals. Both dogs up on their hind legs trying to stay alive and not get flat mauled to death.
Have you ever heard a real dog fight? It ain't pretty. It took three employees to pry these dogs apart. There was kicking and screaming involved. Dragging off by the collars. And here I am, a total animal lover, whose dream it has been my entire life to swim with the dolphins, but once I researched how the animals are kept and treated in captivity, I knew I would never pay a cent to support that. And now I'm about to get on this poor dog death trap and take a ride for my own pleasure?
It's too late now. Gunner is excited out the yang to be here. At least he was, before his precious Lassie dreams got crushed by two sled dogs trying to kill each other.
But we already paid. And two new dogs have been hooked up and our musher says we're ready to go.
I shake it off, put on my best face and stammer,
"Come on Gunner! Our sled is ready! This is gonna be soooo much fun!"
He unburies his head from the snow, dries his eyes from the tears and looks at me as if saying,
"mom? You are supposed to protect me from such unhappiness and suffering."
Oh don't be a puss, this cost me a fortune and you can see right there that there are no refunds available. Get on the sled. We are going to have FUN damnit!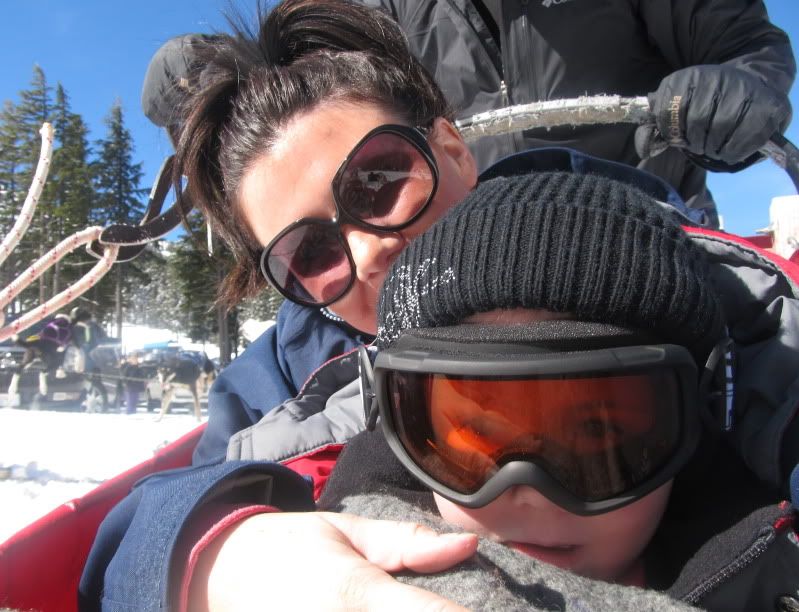 (this is the look of fun)
Off we go. A few miles into it, all is good. Dogs are running in sync, no one is killing each other, and Gunner seems to have recovered. He's actually cracking a smile, thinking this might not be so bad after all.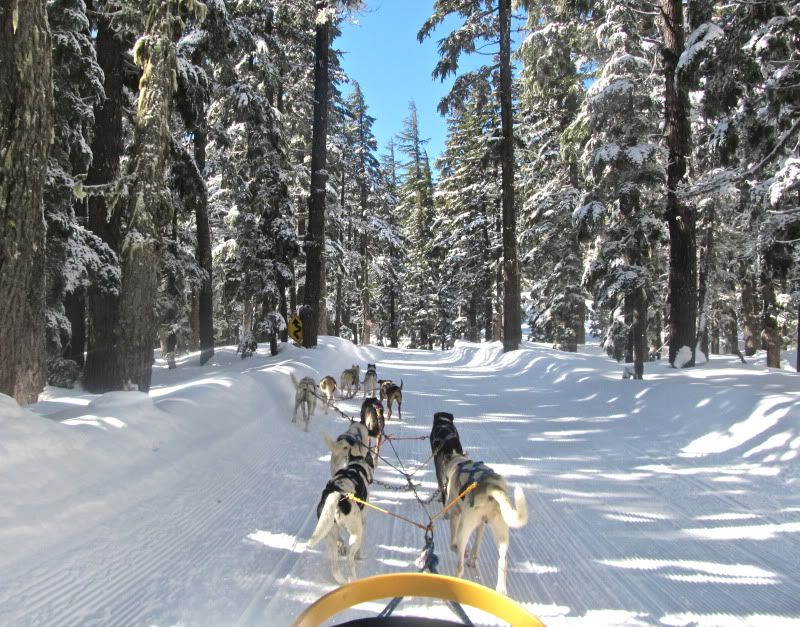 Until.
There we are, rounding a bend, when a woman appears (I'm sure she was the devil in disguise) with two little pomeranians. Apparently, the sled dogs are trained to ignore other animals they encounter on the trail, and just pass on by. Except this time.
But OF COURSE.
Everyone follows the two lead dogs. And when those two lead dogs took off for the poms, the rest of the pack followed suit. Which would include my son and I, since we were trapped inside that God forsaken rackety ol' sled. What makes this story even more interesting, is we were heading down a narrow straightaway path, so when the dogs turned to take after the poms, they were all getting tangled in their rope lines, which in turn made them even more frustrated and angry which in turn made them yank on the sled harder and harder and I was certain we were going to tip over and get dragged to our deaths.
Our musher in the back? (You know, the guy who leads the dogs and is supposed to keep us safe?) Well he went into a booming tirade screaming every obscenity in the book. I'll be the first to admit that I lose my cool around my kids and let an f-bomb fly here or there, but Gunner had never heard this kind of language before. To hell with his supposed excitement for this once in a lifetime experience, the poor kid was flat freaked out and I'm sure questioning why on Earth God gave him me as his mother.
Our musher could not gain control of the dogs, so he said to me in a tone I will never forget;
"Raven, I need you and Gunner to get out of the sled as carefully but quickly as possible."
Sure thing dude, you don't have to tell me twice. We hop out and stand over to the side. Our musher is trying in vain to get the dogs untangled, turned around, settled down, with no luck. So I offer myself up to him and ask,
"so, um, do you like, need my help or something?"
I could tell he knew he should say no, because of the certain liability he could face if he had the customer help him out and the customer got hurt in the process, but I also knew he really had no other choice, so without hesitation, he hurried back to the sled, threw down one of the ice pick anchors, jacked out the brake petal and directed me to
"put one foot here, the other there. And whatever you do, do not let go! The dogs may try and yank you behind the sled, but do not, I repeat do not let your foot off that break!"
Well shit.
Can I change my mind about helping?
Oh and Gunner. Poor little thing. Our musher had to take matters into his own hands and yell at him to stay back by the trees, out of the way of danger. Whenever he inched a step closer, we both berated him to STAY THE EFF BACK! What else could we do? The very last thing we wanted to have happen would be an innocent little four year old to meet his demise from the happiest sled dog team of all time. So there he was, sitting by the trees, crying his head off because he was so confused, so scared, and probably pissed off most of all.
After some time of trying to untangle and settle the dogs, nothing was working. We were completely turned around by this time and our musher said our only choice was to head back the way we came. Which would in turn be putting us in direct traffic of other sled dog teams coming our way. It would be like driving the wrong way down the highway, with oncoming cars zooming right by you, right
at
you.
We basically spent the return ride back with our eyes closed. And I'm pretty sure I whispered the Lord's prayer to Gunner about fifty times. When we finally returned (by the grace of God), we were out of that hell hole and halfway down the road before our musher could thank us and say,
"now you guys make sure to come back again, ok?"
I try not to use the really bad cuss words here on this blog, but my response to him?
FUCK. OFF.